How to Choose the Best Card Reader for Your Business or Restaurant in Ireland? A Complete Guide [2023]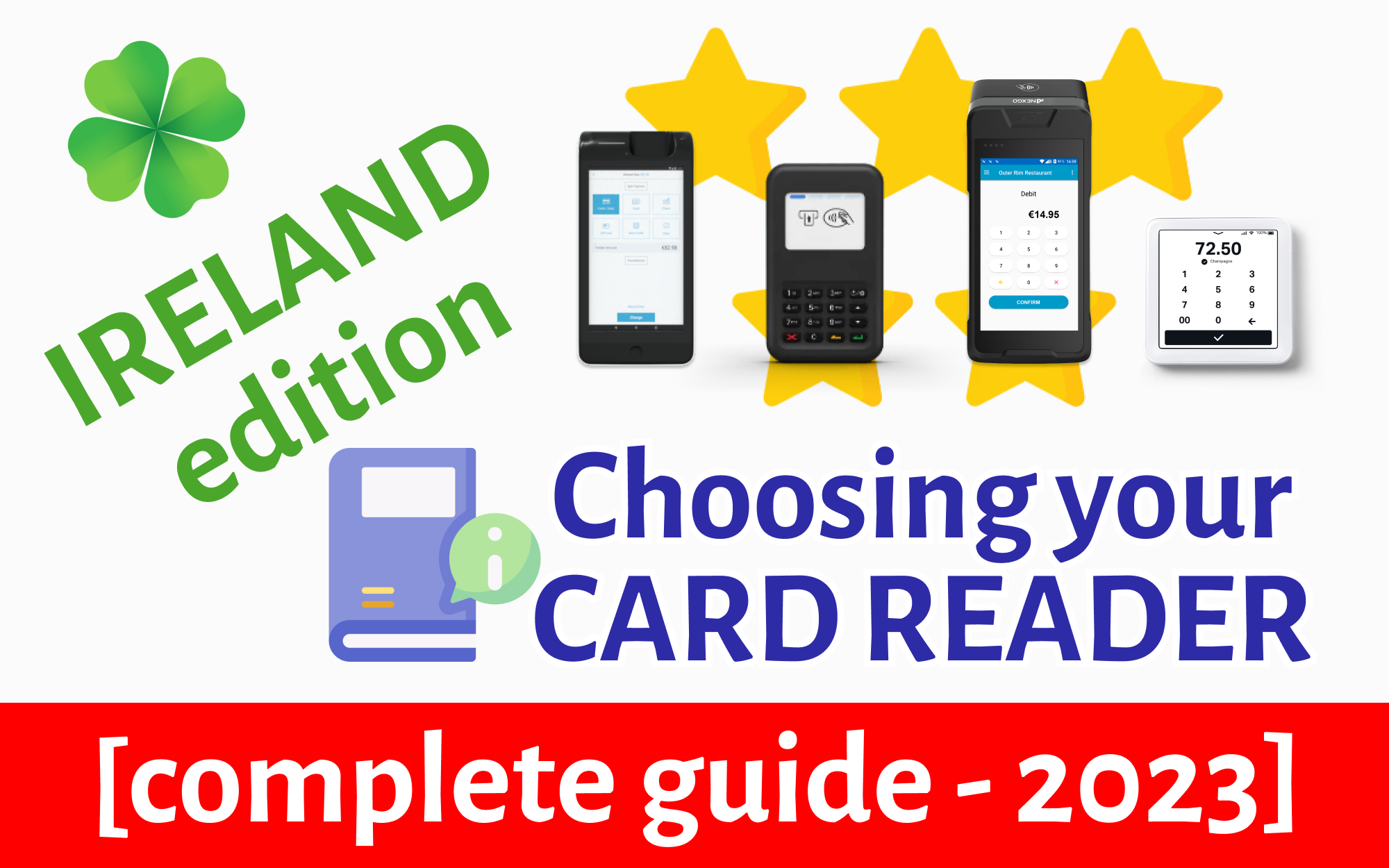 With the rise of card and contactless payments, it has become essential for all Irish businesses to accept electronic payments. As an entrepreneur or business owner, offering your clients to pay by card or phone will help you never miss a sale.
MobileTerminal has drafted a complete guide for you to understand the difference between all card reader models, and the most important features you can expect from a modern payment terminal.
Although there are many card reader offers in the market, these can be grouped in 3 main categories.  These 3 categories of card readers address different needs, for different types of businesses:
Solutions for micro-merchants and starting businesses, like Square or SumUp. These are ideal if you are starting your company and want affordable readers with no commitment.
Modern offers with competitive rates for established merchants, such as Yavin. The best offers to get a modern terminal with competitive commission rates and no commitment.
Traditional payment solutions from banks and financial institutions, such as AIBMS, BoI, Elavon, etc. The most relevant offer if you are willing to commit over several months and can negotiate interesting fees with your bank.
---
👉 Discover our favorite card readers in Ireland 🇮🇪
The importance of choosing the right card reader for your business or restaurant in Ireland
Card readers are now a must-have for any Irish business or restaurant
Accept more payments and increase your average basket value. Getting equipped with a card reader will help you never miss a sale and increase your company's turnover. Indeed, many customers would rather pay by card, and average spending tends to be higher by card compared to cash transactions.
Make payments faster for you and your customers. Card transactions can go twice as fast as card transactions: there is no coin counting, no change calculation, etc. With a simple tap or insert, electronic payment will help you operate faster and avoid long waiting lines for your customers.
Secure your business and payments.Not having cash inside your business will help you avoid the risk of loss or theft. Additionally, electronic payment prevents the risk of counterfeit cash. As card readers encrypt transactions and have high security norms, this will drastically reduce the risk of fraud.
Your card reader can facilitate business operations and make your daily life easier

Operate more efficiently with modern card reader features. Modern card readers offer a wide range of tools and functionalities that can help your business operate more efficiently. Going paperless with digital receipts, accepting tips directly on your card reader, connecting your PoS… all of these are now possible directly on your terminal.
Stay in full control of your business. Modern card readers come with detailed reporting tools, for you to monitor payments and payouts to your bank account. This will enable you to keep an eye on your business performance in real-time, and facilitate your record-keeping.
Improving customer experience with your card reader
Provide a seamless experience to your customers. Payment is the final step for completing a transaction: you want to make it seamless to close every sale. Getting equipped with a modern card reader will portray an image of trust and modernity to your customers, and increase the likeliness of them coming back to your business.
Offer additional services to your customers on your card reader.Many customers describe payment as a pain point when completing a purchase. A modern card reader can help you transform this painful experience into a rewarding step: offering loyalty points directly on the terminal, sending personalized receipts with promotions, etc.
Asking yourself the right questions before getting a payment terminal in Ireland
What is the size and stage of your company? A starting business will have different needs than those of an established business. For instance, if you make less than €5,000 in sales per month, you should go for an affordable device with pay-as-you-go fees - so you do not have to commit financially as you start.
What are your customers' needs? Do your clients use specific payment methods in addition to Visa and Mastercard? Do they pay via insert or contactless? Do they ask specifically for printed receipts? All of these questions will help you understand the real needs of your clients and find the best reader to meet all of them.
What is your business' payment process? If you collect payments at your countertop only, a fixed terminal will be the best solution for you. But you might need a terminal equipped with a 4G card if you collect payment on the move. If you take payments on the phone, you will prefer a terminal equipped with a MOTO payments system.
What are your other existing in-store tools? Most merchants use a range of tools to run their business: PoS, ERP, accounting, etc. Connecting these tools to your card reader presents many advantages: operate faster, more efficiently, avoiding the risk of errors, ... You can check your reader's compatibility with your favorite tools.
Comparing the different types of card readers for your business
Mobile PoS, fixed terminal, Android card machines… what is the best type of card reader for your business?

There are card machines of all shapes and sizes in the market. Here is how you can find the best device based on your needs:
Do you want a compact terminal that connects to your smartphone? If yes, you need an mPoS card reader type, as opposed to a standalone terminal.
Are you looking for a modern terminal with a smartphone-like interface? In which case, you should go for a new gen Android smart terminal rather than a traditional payment terminal.
Will you be using your terminal remotely or at your countertop? If you need more flexibility, then a mobile terminal will be the right fit, alternatively you can go for a fixed device.
mPoS vs. standalone terminals
Standalone terminals are the most common type of card readers. In recent years, mPoS devices have become increasingly popular. These small devices that connect to a smartphone are more affordable and compact than traditional devices. But these are not aimed at established merchants.
mPoS
Standalone card reader
- requires a compatible smartphone or tablet
- compact size, no receipts printer or PIN pad
- price usually below €50
- operates autonomously
- larger device with more options
- price usually above €500
Android vs. traditional terminals
Standalone payment terminals can be divided in 2 categories: traditional payment terminals and new-gen Android payment terminals. Until recently, traditional terminals were the majority of card readers in the market, but they are being replaced by faster and more powerful Android devices.
Android
Traditional terminal
- intuitive smartphone-like interface
- stronger performance and connectivity
- wide range of features and business apps
- basic functionalities
- slower device and connectivity
- more expensive, often available for rent
Fixed terminal vs. mobile terminal
Last, payment terminals can be divided in 2 categories based on whether you go to your clients to accept payment, or whether they come to your countertop to pay. The main difference will be the devices size and connectivity, with mobile devices offering more options and flexibility.
Fixed terminal
Mobile terminal
- ideal for a countertop, must be plugged
- Wi-Fi or Ethernet connectivity
- external pin pad for your clients
- mobile and versatile
- SIM card (optional) for continued connectivity
- runs on battery
Which hardware features should you look for on a modern card reader?
Screen/touchscreen
Your terminal screen will be the key to completing a smooth transaction with your client, as it is where your clients will be able to see the amount they have to pay, and the transaction status
Pin pad
If your terminal is equipped with a touchscreen it will most likely have no PIN pad, as your clients can use the screen directly. Alternatively, about all terminals have one.
Important: some mPoS devices come without a PIN pad or touchscreen, meaning your clients will have to type in their code on your phone or tablet.
Printer
It can be mandatory to provide your clients with a receipt. But printers are now optional, as most customers are usually satisfied with digital receipts that are more eco-friendly and harder to lose.
Camera / scanner
New gen card readers are often equipped with scanners and cameras. These are helpful to accept QR-code payments like WeChat or AliPay, or scan your products bar code from the terminal.
Plug or battery
Your terminal will either have to be plugged in or equipped with a battery to operate. If plugged in, make sure your shop has got power sockets next to your countertop. If you are using a mobile terminal, make sure you check the battery life, as well as the charger model required.
Connectivity: ensuring your terminal will accept transactions at any time
No matter what type of card reader you use, your device will have to be connected to the internet to accept electronic payment, either via cable or wireless connectivity.
Bluetooth (mPoS)
mPoS readers are not equipped with internet chips, so they will use your phone or tablet's SIM card via bluetooth connectivity. This means you can accept payment from anywhere where your phone is connected to the internet, and that you do not have to pay for an extra SIM to accept payment.
3G/4G connectivity
Mobile standalone payment terminals will require mobile data to process transactions. Just like phones, they need a mobile SIM card to connect to the internet. The card can either be included in the device, or will have to be added as a separate cost.
Wi-Fi or ethernet
Fixed terminals connect to the internet via Wi-Fi or Ethernet. These are generally more robust connections, but can also cause issues if there is a network failure. Having a SIM card as a backup can make sense if you sometimes experience network outages.
Offline mode
Some new generation terminals can process transactions with no internet. Transactions are stored on the device, then uploaded to the server once the terminal connects to the internet. This feature can be very helpful, but also risky as you will not know if transactions are accepted on the spot.
How much does a card reader cost? Finding the most competitive card reader offer in Ireland

Should you rent or buy your card reader?
Buying a card reader
The typical price for buying a card reader usually falls between €500 and €1,000. It is an expensive investment, but can be more affordable than rent. Before you buy a device, make sure it is compatible with other payment providers, so you can change your contract if needed.
Renting a card reader
The average monthly rental fee for a card reader is €30-€50. Renting is a flexible option, but often comes with a minimum commitment period. Make sure you are aware of the terms of your contract before signing up (commitment horizon, miscellaneous fees, etc.).
Understanding transaction fees and how much you will pay in total per transaction
Finding the best pricing model for your business will depend on your transaction volume, as well as the type of cards your customers use. We recommend you estimate your monthly fees with different pricing models, to find the most relevant one.
Blended rates: simple, but expensive
A blended rate means you pay the same percentage rate for all transactions, regardless of the card used. For example, 1.7% for all payments. On average, blended rates are about double the price for local cards compared to variable rates, but are competitive for international and corporate cards.
Variable rates: different price for each payment method
A variable rate is a rate that adapts to the payment method used. Typically, local cards will be cheaper than international and corporate cards. Make sure your provider gives you access to a detailed table with fees for all payment cards (debit, credit, local, international, etc.).
Grid pricing: transaction fees included in your monthly fee
Some companies make you pay a fixed fee for a given volume of transactions - then you pay a blended rate if you go above threshold. For example, you pay €60/month for a €10,000 payment volume, and 1.5% of all collections above that threshold.
Additional fees: what is the total cost of ownership of your card reader?
Beyond the price for the device and transaction fees, additional fees may apply.
Additional transaction fees
Some fees might add up on top of each transaction fee. Gateway fees are a small fixed amount that can be charged in addition to percentage rates. A 4G fee can apply if you are using a SIM card for payment. Additionally, sending digital receipts after a transaction might incur additional costs.
Set up and termination fees
These fees can apply when you start (or stop) using your device. Make sure to ask about these fees when getting your card reader to avoid bad surprises.
Miscellaneous fees
These fees include customer support fees, merchant account fees, internet fees, banking charges (if you got your card reader from your bank), etc. We recommend you take into account all fees before making a decision, as these might have an impact on your monthly bill.
Choosing the best card reader based on the specifics of your business
Finding a card reader that helps you accept payments seamlessly
The first thing you need to look for in a card reader is the ability to get paid and access funds easily. Here are the main requirements you should look for:
Accept payments for Visa, Mastercard, and optionally other cards your clients use (Amex, Discover, etc.).
Cancel or reverse transactions directly from the card reader, with access to your transaction history.
Receive funds on the bank account of your choice, within 2-3 business days.
Which built-in features should you look for in a modern card reader?
Beyond basic card reader features, most modern payment terminals provide some nice to have options to help your business run smoothly:
Real-time back office on desktop or tablet to monitor all payments and payouts to your account.
Reference management to categorize payments (by invoice, by customer, by waiter, etc.)
Tipping, now a requirement for hospitality businesses with the decreasing use of cash.
Connecting your payment terminal to your point-of-sale (PoS) and to your existing stack of tools
Finally, compatibility with other tools is an important factor to choose your reader based on your business' specific solutions, such as:
PoS software: connecting your terminal to your PoS will enable you to avoid double entry and automate reconciliation.
Accounting program: a direct integration between your PoS and accounting software will make bookkeeping easier, so you do not have to deal with the complexity of fees.
Loyalty: offering your clients a loyalty program connected to your card reader will enable you to reward your customers directly as they spend instore.
Conclusion: what makes an excellent card reader?

The ideal card reader will enable you to accept all payments from your customers, and provide you with the tools you need to make payment seamless for you and your clients. Compatible payment methods, hardware and software features are essential for this purpose.
Pricing should be aligned with your monthly sales volume. For transaction fees, you can expect a blended 1.7% as a starting business (less than €5,000 per month), and a variable around 1% as an established company.
Remember to take into account all fees and clauses when choosing your card reader, including monthly fees, commitment horizon, etc. It is essential to estimate the total cost of ownership of the card reader to make the right decision.
Last, the ideal card reader should come with relevant features and integrations within your existing stack of tools, to facilitate day-to-day operations.
👉 Discover our favorite payment terminals in Ireland 🇮🇪
Thank you for reading our article about choosing the best payment terminal for your business. We hope this will help you make a fully informed decision.
Please visit MobileTerminal.org for more in-depth card reader reviews, to help you find the best fit for your business 🚀
📺 You can also take a look at our YouTube channel to enjoy our latest videos.