Finding the Best Card Reader in the UK - 2023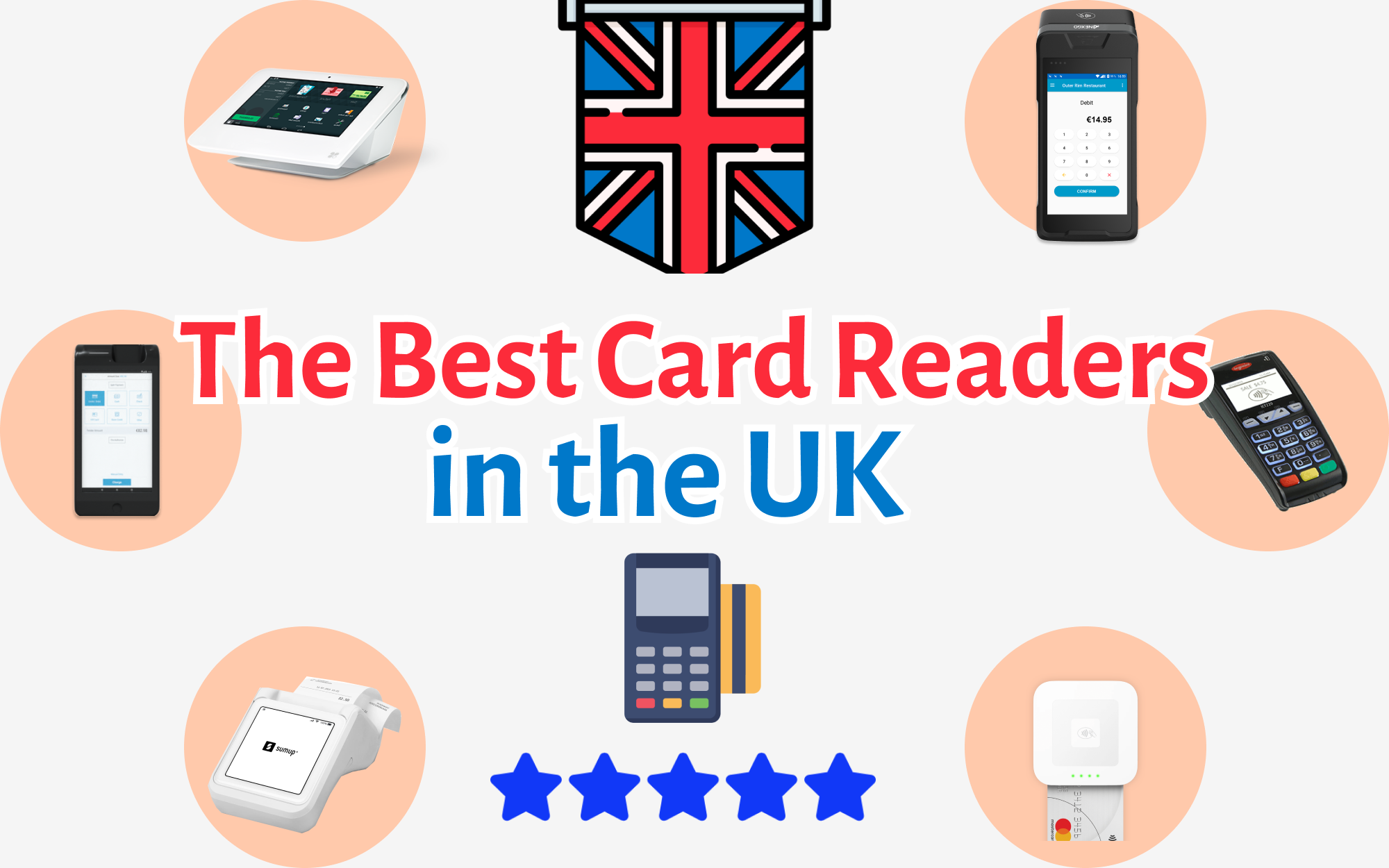 Whether you are just opening up your business or have been in the market for quite some time, it is important to find a card reader that will not only adapt to your customer's needs, but that will also better their experience and ensure there are never any issues making payments.
If you have already had a card reader, you might have had the experience where your client is trying to make a payment, but the signal goes out, or it takes so long to process that it feels like a hassle every time. While this may seem inevitable, it doesn't have to be this way if you know how to look for the best ones.
Here is an overview of our top card reader recommendations 👇
With so many competitors in the UK, it can be hard to determine which ones are the right ones for your business, and it's important to find the ones that will make payment easy while also bettering your company's operations overall. Mobile Terminal has reviewed and chosen the best card readers in the UK to help you make the right decision.
To make it easier for you to scan through, we've divided up our payment solution recommendations into 3 categories: starting business, established business, and more traditional offers.
For starting businesses (those typically making less than £5000) we suggest:
Square Reader - Simple Pocket Device
SumUp Solo and Printer - Advanced Card Reader with Printer
For established businesses (those typically making more than £5000) we suggest:
Yavin Terminal - Modern Terminal with Complete Functions
Clover Mini - Countertop Touchscreen Machine
For traditional offers (those with more conventional set-ups and features) we suggest:
Bank-Style Solutions - Barclaycard, Worldpay from FIS, Elavon, etc.
Best Card Readers in the UK for Starting Businesses
Square Reader - Simple Pocket Device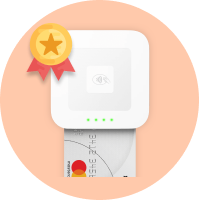 👉 What makes the Square Reader one of our top picks?
✅ Compact and simple to use
✅ Most affordable with needed functions
✅ Quick and easy set-up
We recommend the Square Reader as the simplest option for new businesses. It has a very simple design and is small, so you can even carry it in your pocket if you would like. It is operated using Bluetooth, so you do also need your cell phone to be able to make payments.
Accepting most card types, the Square Reader connects to most devices with the Square app and was designed specifically for contactless payment as it has no physical keyboard, but you can also pay by insertion and write the card's pin on your cellphone. It has no printer, but the set-up of the device is very easy, and you can make payments without having to pay too much for a POS because the Square Reader is the least expensive at an initial cost of £19 + VAT. It has no monthly fee, but the commissions are a bit high at 1.75% per transaction. In this case, if you are just starting out and might have fewer transactions at the beginning, this can really suit you.
Although it is the simplest of all, it is a very complete option, and we can assure you that it will help you start your business in a simple and fast way, so you can accept credit card payments seamlessly. This way, you will be able to focus on other aspects of starting your business to grow it without having to invest so much to begin with.
SumUp Solo and Printer - Advanced Card Reader with Printer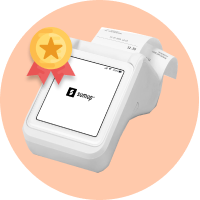 👉 What makes the SumUp Solo and Printer one of our top picks?
✅ Touchscreen & 3G/Wi-Fi
✅ Printer & charging station included
✅ Accepts all card types
We recommend the SumUp Solo and Printer as the most advanced card reader for new businesses with a printer. It functions independently (no Bluetooth connection needed) and works as a portable card reader, so it functions with Wi-Fi and has a 3G SIM card in case you lose signal at any time. It has a touch screen, and you can pay with insertion or contactless with all the major card types, on top of American Express and Google or Apple Pay.
As all SumUp products, you can send electronic receipts, but at the same time, the charging station that the card reader comes with also has a printer included, which makes it standout among the other SumUp payment solutions. This means that you can print paper receipts if you would like to as another option and keep the card reader charged at all times, as long as the charging station is pre-charged. It is inkless, and you can print around 800 receipts with a single charge. Without the charging station and printer, the card reader is portable as it is very compact and modern.
While you can get the SumUp Solo without the charging station or printer which only costs £79 + VAT, we recommend purchasing the whole bundle at a price of £139 + VAT for a more advanced solution with greater options. There is also no monthly fee, which is what makes it great for smaller businesses just starting out even though the commissions are high at 1.69% per transaction. This card reader is a perfect solution if you want an affordable device with a couple more advanced features and add-ons.
Best Card Readers in the UK for Established Businesses
Yavin Terminal - Modern Terminal with Complete Functions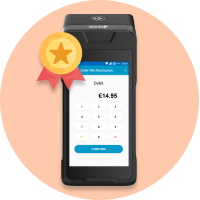 👉 What makes the Yavin Terminal one of our top picks?
✅ No Commitment
✅ 4G/Wi-Fi and printer included
✅ Advanced Back-Office and Reporting
We recommend the Yavin Terminal as the most complete option for businesses that are more established, have been in the market for quite some time, and who typically have revenues of more than £5000 per month. It is completely autonomous and connects with Wi-Fi or 4G as well in case you lose signal. It comes fully set-up and ready to start making payments, with a printer or electronic receipts (either through email or text) included.
One of its main advantages are all the additional applications it comes with that boosts customer interaction and makes their experience even more seamless than ever before. These features include:
🧩 Tipping - Encourage your customers to tip with customizable tips.
🧩 Customer Reviews - Allow customers to review your business on any platform of your choice like Google Reviews or TripAdvisor. The information also goes into your back-office for easy analysis of where you can improve.
🧩 Custom Receipts - Make your receipts extra special with logos or QR codes to remind customers of their great experience and increase connection to your product.
And many more!
Also, the Yavin Terminal has a back-office to track transactions and for advanced reporting and analysis. Additionally, its open API allows the integration of any POS that exists in the market. This means that if you already have a POS that you know you like and want to continue using it or that you have heard is excellent and would like to try out, they can integrate it directly with the platform. Lastly, they have excellent customer service with a response time of less than 10 minutes.
As they make an effort to offer more personalized prices to better adapt to each type of business, you will have to make a consultation directly on Yavin's official site by filling out a form and speaking with them directly. Generally, you buy the card reader, there is a monthly fee, and the commissions vary by card type for fairer charges. For this reason, they end up being among the lowest, around 0.6% on average. You can pause and resume the monthly fee whenever, making it completely free of commitment, and you only pay when you are using it. That is why we recommend it for more established businesses that have a lot of transactions and want the most advanced and complete card reader out there.
Clover Mini - Countertop Touchscreen Machine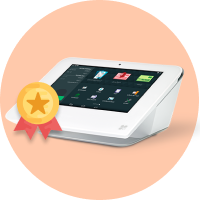 👉 What makes the Clover Mini one of our top picks?
✅ Stationary and large touchscreen
✅ Compatible hardware and Ethernet cable
✅ Integrated POS system
We recommend the Clover Mini as an alternative solution for established businesses if you would like a standalone and stationary card reader. It connects to Wi-Fi or if need be with an Ethernet cable and has a large 7-inch touchscreen for a bigger and clearer display when making payments. The device can have various pieces of hardware attached like scanners and printers, which allows for a greater ecosystem of products to streamline the payment process even further.
They also have electronic receipts as an option and their own integrated POS to keep track of all products and easily choose between them during the checkout process. If you are looking for a bigger, more stationary card reader that sits on the countertop, this is the most modern one that does just what you want it to do without an excessive amount of machinery.
Clover has an exclusive partnership with Lloyds Bank and Bank of Scotland in the UK, which means you will need to have an account or open one with either of them in order to get the Clover Mini. This is fairly simple, but because they negotiate pricing with their clients, it makes the most sense for you to consider this option once you have already developed your business and have greater negotiation power. Regardless, you typically rent or buy the terminal and there are other fees associated with it as well. It is a great option for established businesses with more traditional requirements and less of a need to move around with the card reader.
Best Card Readers in the UK with Traditional Offers
Bank-Style Solutions - Elavon, Barclaycard, Worldpay from FIS, etc.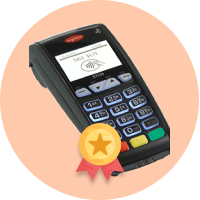 Our final recommendations include more traditional offers for those who would like to stick with a bank solution or something a bit more simple, typically rented. These solutions include Barclaycard, Worldpay from FIS, Elavon, and others from the most common banks. All of the companies offer various models which range from the more typical card readers you are used to seeing to a lot more modern ones with touchscreen.
They accept all card types, work autonomously with a Wi-Fi connection, and have their own POS offerings to integrate. Most of them include a printer for paper receipts, but for the most part, they offer more basic functions and are great if you are only looking to process card payments easily. They do tend to offer over-the-phone or online payments for an extra cost if you are looking to implement more than one way to pay. The more traditional offers normally require some type of set-up time and fees.

Just like the Clover Mini, these card readers have rates that are directly negotiated by applying on their website to align to the amount of revenue your company makes and the stage that your current business is in. Because of that, we suggest that you consider this option when you are making higher revenues to negotiate better pricing. Additionally, typically these card readers are rentals with contracts that last 12-18 months, so be sure to read the fine print to ensure you know exactly what services you are entitled to and what you will be paying for. These are good options if you are just looking to make basic payments but still want to have an efficient card reader that works fast and properly.
Finding the Right Card Reader for your UK Business
Now that you have a full overview of the best card reader in the UK, in order to pick from these few, focus on the following most important aspects:
The size and stage of your company.
Your monthly card revenue.
Key features and add-ons you would like to have.
What you most value for your customers.
With these 4 key things in mind, you will be sure to pick the right card reader for your specific business to not only streamline your operations, but also better the customer experience overall.
Here is an overview of our top card reader recommendations 👇
Thank you for reading our article about finding the best card reader for your business in the UK. We hope this will help you make the right decision to continue growing.
Please visit MobileTerminal.org for more detailed card reader reviews, to help you find the best fit for your business 🚀