Bank Card Readers vs. Alternatives - Finding the Best Payment Solution for Your Business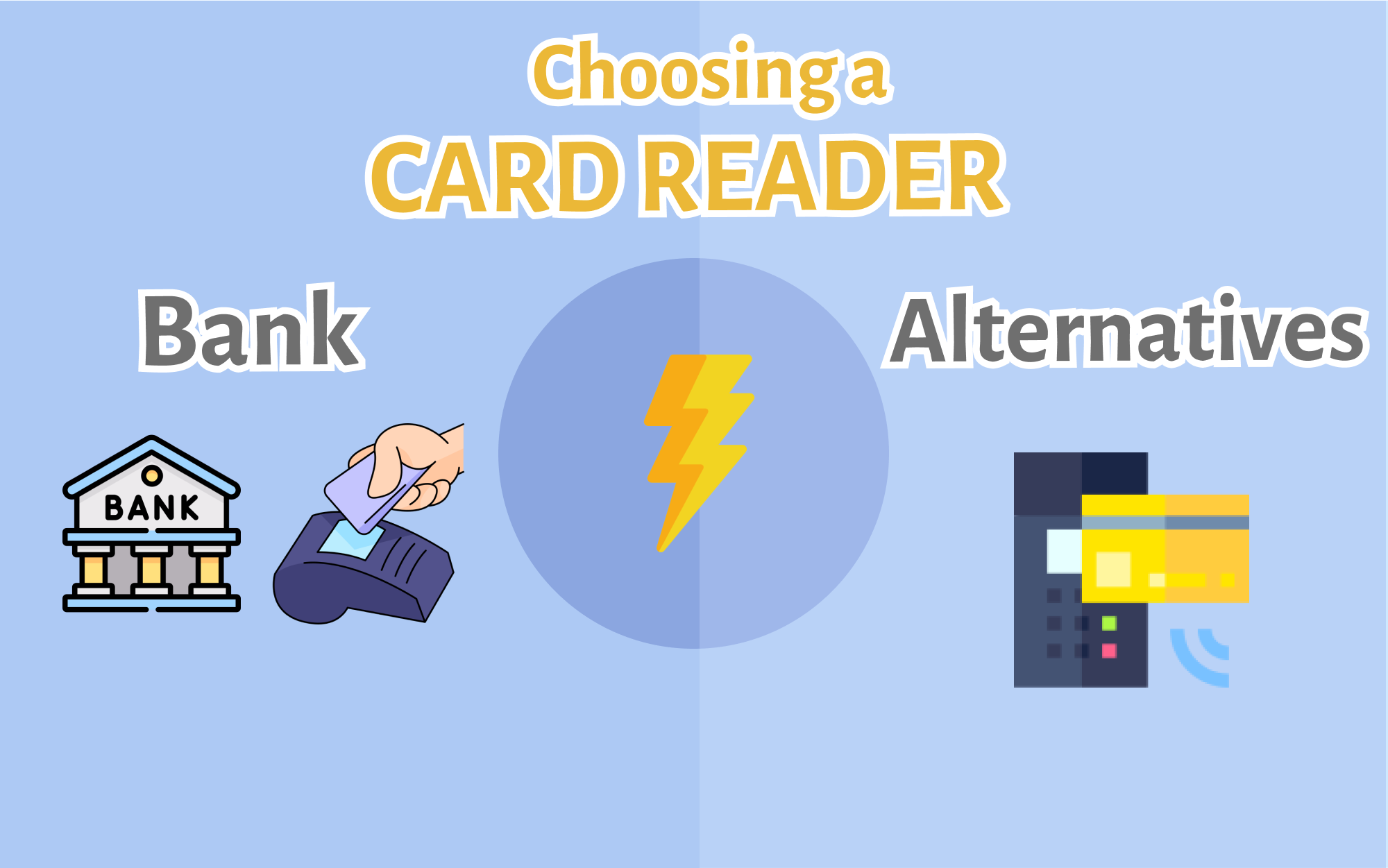 Over the past three to four decades, businesses in the need to accept card payments could only obtain a card reader through their bank. However, in recent years, new companies have emerged offering card readers tailored to merchants' specific needs. These companies provide a more complete set of services, resulting in an outstanding experience for both the merchants and cardmembers.
However, despite the rise of new alternatives, obtaining a card reader through the bank continues to have its advantages and remains the most popular option. Therefore, understanding the offer of new alternatives and the pros and cons of both options will help you choose the card reader that is more relevant to your business.
Our favourite alternatives to bank card readers in the UK 👇
Pros and Cons of Traditional Bank Card Terminals
Getting a robust and trusted card reader with the bank has its advantages
Lower commissions: Commissions vary depending on the bank and the size of your business, but in most cases, financial institutions offer lower commission rates. So this is probably one of the biggest advantages.
Centralizing financial operations: Another great advantage is how easy it is to manage all operations in the same institution. From getting the payouts into your business bank account, getting a more comprehensive monthly statement, up to getting access to investment opportunities.
Fast payout: As transactions are conducted directly between banks, receiving funds in your bank account can be as fast as the following business day.
Trust and security: Lastly, security plays a big role when conducting financial operations, so it is natural to feel inclined to go with trusted institutions that have been operating for decades.

The Limitations you Get When Choosing a Bank Card Reader
Surely, having lower commission rates is one of the biggest advantages of getting a card reader with the bank. But there are other downsides that offset this big advantage.
These are some downsides of getting a card reader from the bank:
Commitment contract: Issuing a card reader requires committing at least 6 up to 18 months, which can be restrictive for businesses that want more flexibility.
Slow modernization in card readers: Banks are not focused on improving the software of the card readers, which can result in slower modernization of the technology and limited features compared to other specialized companies.
Hard to contact them in case of any issue/ customer service: Dealing with a bank's customer service can be frustrating and time-consuming, as they often have long waited times and complicated phone menus.
Lack of transparency of pricing: Banks have complex pricing models and usually are not clear enough with all the costs involved like upfront costs, installation cost, etc. This can make it difficult for businesses to accurately budget and plan for expenses.
Limited additional services: In most cases, card readers from banks do not offer additional services or features that specialized card reader companies do, such as integrations with accounting software or PoS systems.
Top Bank Card Reader Offers in the UK
HSBC
Barclaycard
Lloyds Bank
Upfront cost
£150-£250
£0-£29
£50
Rental
£0-£18
£15-£19
£23 + VAT/month
Monthly fee
£0-£20
NA
£15
Commissions
Bespoke-
from 2%
Bespoke-
from 1.6%
Bespoke
Commitment
12 months
12-18 months
36 months

Our opinion
3/5
Faire rates
but average
customer service.
4/5
Clear pricing
& no montlly fee.
2/5
High monthly fee
(rental + service) and
long commitment.
Exploring New Card Reader Alternatives
From the moment card readers started to evolve to electronic devices, new companies positioned themselves as alternatives to banks. These companies understand the importance of offering a user-friendly solution that prioritize the needs of the merchants.
The main goal of card reader companies is to equip business owners with tools that can help them manage their business more effectively through technology by having all services in just one device.
Getting a modern card reader can help your business record payments in a more organized way while also improving the customer experience. But most importantly, it can provide managers with greater control and sales information.
What You Can Expect from Modern Card Reader Solutions

Online back-office: Modern card readers have the capability to show transactions in real-time on portals, providing managers clear information and insights of sales in a user-friendly manner.
PoS integration: Most big retailers require a PoS system to operate. Having the possibility of integrating the desired PoS system to the terminal is one of the biggest advantages of smart card readers. This facilitates accurate recording of the sales data and provides real time visibility of sales transactions to improve inventory management.
Customer service: Card reader companies have made an extra effort to quickly solve any issues that arise. They assist merchants as fast as possible because they understand how frustrating it can be to be unable to accept card payment.
Bookkeeping: Some card reader companies have partnered with booking software providers and bundled their services to facilitate business accounting. This is a particularly interesting feature for small establishments that lack an accounting department.
Tip acceptance: Another interesting, but optional feature; is the convenience for customers to add a tip after paying, which can be especially useful for service businesses such as restaurants or salons.
Online Reviews: Service businesses benefit the most out of this useful feature. Customers can easily leave a review after paying. Establishments can increase Google positioning and attract more clients.
Top Modern Card Reader Alternatives to Banks in the UK
| | YAVIN | SUMUP | SHOPIFY |
| --- | --- | --- | --- |
| | | | |
| Upfront cost | £179 | £39-£139 | £49 |
| Rental | NA | NA | NA |
| Monthly fee | £24 | NA | £9-£299 |
| Commissions | ~0.7% | 1.69% | 1.5%-1.7% |
| Commitment | NA | NA | NA |
Yavin - Best Alternative to Banks for Established Businesses
Yavin is an excellent option for businesses looking for a modern and efficient way to manage transactions. Its competitive rates, which are similar to those offered by banks, make it an attractive choice.
Additionally, the company provides a wide range of services that can be tailored to meet the specific needs of your business. Some services include; ability to integrate any PoS system, gather online reviews, accepting tips, etc.
But what truly sets them apart is their complete and user-friendly online back office. The platform displays all transactions in real-time, allowing managers to easily access data on their phones, so that they can manage their business from the distance and keep an eye on sales.
What we like: Multiple features, seamless back office, competitive commissions, no commitment
What we don't like: Monthly fee
SumUp - Best Alternative to Banks for Starting Businesses
SumUp offers the most competitive portable card reader for small businesses and sole traders. Their devices are low-cost but still have good quality.
However, the best feature of these card readers is the app, where all transactions are set up.
SumUp has done an excellent job of building an app that is both intuitive and comprehensive. And unlike many banks and other companies, SumUp does not require any commitment or monthly fees.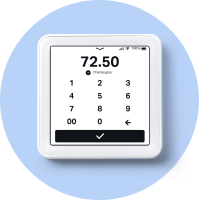 What we like: Best portable card readers, organized app
What we don't like: High commissions, average customer service
Shopify - Best Alternative to Banks for Omnichannel Retailers
Shopify is an all-in-one solution. From accepting online payments to having their own PoS. They can basically do everything that you can imagine related with processing payments.
Their focus is to facilitate transactions in retail stores so that businesses can sell in-person or online and even manage the inventory to ship to customers or accept returns. Shopify has gone above and beyond, so that merchants don't have to worry about anything.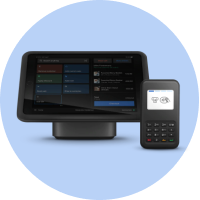 What we like: Own PoS, omnichannel retail
What we don't like: High commissions
Verdict: Modern Card Readers vs Traditional Bank Card Readers
The advantages of traditional bank card readers, such as great commissions, cannot be ignored. However, the limitation of services, hidden fees and contract commitment are some of the downsides that open the door to look for new alternatives.
On the other hand, modern payment alternatives have focused on listening to merchants needs and offer what they are looking for. Event though this represents having slightly higher fees, having more control and a bundle of services is, in most of the time, worth the investment.

Choosing between traditional bank card readers and modern payment solutions deserves careful consideration. So, get a quote from your bank and compare with other players. Remember to take all fees into account (set up fees, commitment horizon, etc.) and select based on an informed decision.
Thanks for reading, and we hope you find the option that will best improve your transactions and provide more benefits in the long run.