Best Restaurant POS System in Ireland - 2023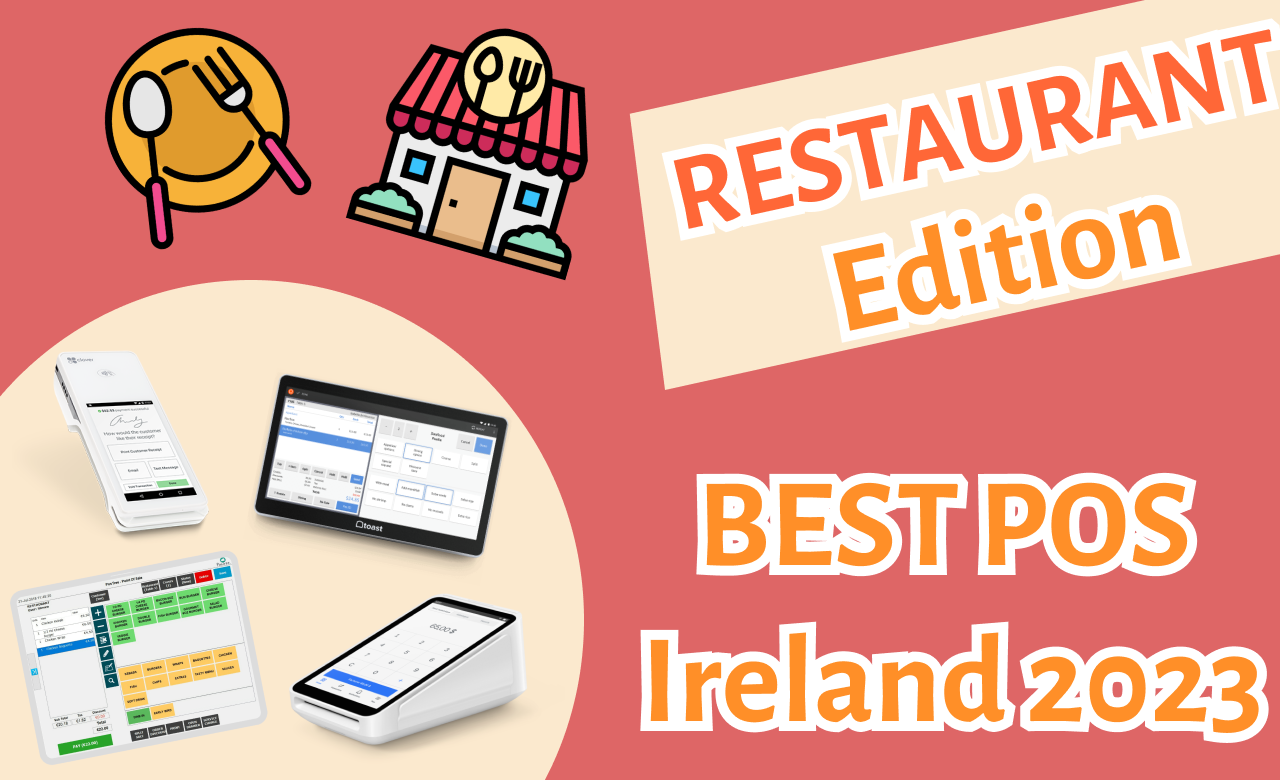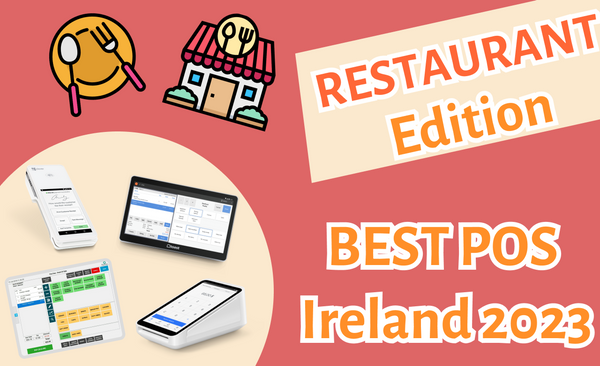 If you're just getting started with a restaurant or want to make your business operations more efficient, having the right POS system is essential. This system can keep track of your inventory and transactions as well as make sure everyone in your business works together.
With so many choices, it can be hard to know which one is best for you. Mobile Terminal can help make it simpler by comparing and selecting the best POS systems for the food service industry, so you can pick the one that meets your restaurant's needs.
Check out our top choices 👇
| ⭐️ All-In-One Solution | ⭐️ Personalized Solution | ⭐️ Omnichannel Solution | ⭐️ Traditional Bank Solution |
| --- | --- | --- | --- |
| | | | |
| Square | PosTree | Toast | Clover |
What is a POS System for Restaurants?
A point-of-sale system simplifies the checkout process and collects valuable data about your customers and sales. This information can provide valuable insights for future business decisions and can even be integrated with CRM software.
For restaurants, there are features that can make checking out much simpler and enhance the service. These include front-of-house like taking orders, tips, and payments as well as back-of-house like food and supplies inventory, kitchen ticket fulfillment, and personnel reporting.

A great restaurant POS system should include:
Quick and Smooth Checkout: Whether it means being able to click on specific menu items rather than putting in the exact amount or just having simple payment steps, your restaurant POS system should be efficient and ensure smooth processing.
Easy to Use and Manage: Regardless of how advanced the features get, the interface should always be easy to handle so that all of your employees can use it and ensure your data is up-to-date at all times. The layout should be intuitive and simple tasks should be carried out with ease.
Strong Inventory Control: Knowing the amount of supplies you have at all times is key to a high-functioning restaurant as demand increases and a quick turnaround is vital. With an effective POS, this knowledge is quickly available, and you'll know both food costs and profit margins in full detail.
Customer and Employee Management: Gathering information around your two key stakeholders, your customers and employees, can be especially valuable. Whether it's identifying loyal customers to find ways to maintain their loyalty, running marketing tactics to increase engagement, or managing employee working hours, leveraging these tools to propel growth.
Quality Reporting and Advanced Analytics: KPIs are necessary for progressing each quarter, so having the right tools to help you form and track whether you accomplish these goals can lead to greater success. Additionally, having automated reports and analytics to gather takeaways like sales by item or seating performance will make reporting easier and enable strong business decision-making.
Cloud-Based and Offline Functionalities: Ensuring your POS system will function regardless of internet connection will ensure you never lose key data. If it's a cloud-system, even better as you will be able to have real-time data across all connected systems and implement third party tools for a cohesive analytics system.
Optional: The following are features you may consider looking into depending on your restaurant model: table management and reservations, online ordering and menu management, recipe costing, and self-service/table side ordering.
The Best POS System Recommendations for Restaurants in Ireland
Now that you know which features to keep in mind, it's time to find the right POS system for your restaurant. Here are our top 4 recommendations of POS systems for restaurants.
| | | | | |
| --- | --- | --- | --- | --- |
| Recommendation | Starting Restaurant | Established Restaurant | Omnichannel Restaurant | Traditional Bank-Contract Restaurant |
| Initial Price | Free-€69+VAT/month | Custom | €90/month-Custom | Custom |
| Contract | No Commitment | Fixed | Fixed | Fixed |
| Card Reader | Square | Any | Any | Clover |
Square - Affordable POS for Starting Restaurants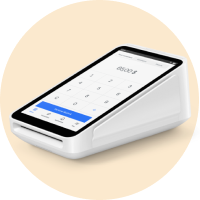 👉 What makes the Square POS ideal for new restaurants?
✅ Low cost and minimal setup
✅ Commitment-free with basic tools
✅ 3rd party order manager + refunds
For restaurants that are just opening, our top pick is the Square POS system, which gives you access to all the necessary tools you will need to get started at an affordable price. Simple to install and easy to navigate, the Square POS is an all-in-one payment solution that has key reporting and analytics as well as e-commerce.
While it does behave as a more general tool to fit more than one type of business, it has an in-depth focus on inventory management with its low-stock alerts and on managing items and services like third party delivery and customizations with refunds. It also offers additional marketing tools to help with outreach campaigns.
♥️ Get yours now directly on their website
Square POS is either completely free with more limited features or €69 + VAT per month per location with more advanced options; however, both are completely contract-free. With fixed commission rates of 1.75% as part of the all-in-one card payment process, Square is great for new restaurants who make less than €5,000/month.
It is the perfect POS solution to start-out for restaurants that want to focus on organizing table and kitchen orders and inventory management.
PosTree - Personalized POS for Established Restaurants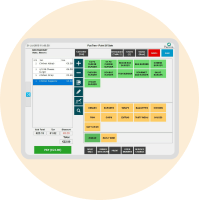 👉 What makes the PosTree POS ideal for established restaurants?
✅ Dedicated support and training
✅ Web design and online ordering
✅ Daily reconciliation and on-the-go reports
For more established restaurants, our top pick is PosTree, an Irish-based POS system that offers more advanced features. Designed for dine-in, takeaway, delivery, and bar services, PosTree is a personalized solution that works well offline and includes all types of reporting. It gives you the ability to switch between different menus and prices with ease along with the implementation of the tablet ordering feature which lets you accept orders right from your customer's table.
Not only that, but with its additional website design options, it allows you to expand your growing restaurant to implement e-commerce and helps you promote it with SEO tips and analytics. With online food ordering as one of their priorities, you will have all the tools in place to create a hybrid-model business effectively.
♥️ Get yours now directly on their website
They strive for a customized offer, so pricing is varied by company, which is why we recommend checking it out when your business is already up and running to negotiate the best rates. They have priority customer support and allow you to manage your real-time reports from anywhere with remote servers.
PosTree is an ideal retail POS system for more established restaurants that need advanced analytics and are rapidly expanding every day.
Toast - Advanced POS for Omnichannel Restaurants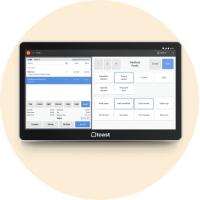 👉 What makes the Toast POS ideal for omnichannel restaurants?
✅ Dynamic displays
✅ Offline and cloud-based
✅ Built-in partner integrations
Created with restaurant service as a focus, the Toast POS system is a great solution if you are looking for the full restaurant package and hoping to sell on all fronts. This "restaurant-first" platform offers everything from table side service, kitchen prepping station routing, and inventory tracking tools. With multiple display offerings for waiters, kitchen staff, and cashiers, their offline, cloud-based pos system drives smooth ordering and increases turnover as a result.
The Toast POS software is split into two categories: Quick Service or Full Service. Depending on which one fits your restaurant the best, both offer advanced tools that enable omnichannel selling, so you can expand in all directions. With multiple partners already in place, integration is seamless which leads to effortless setup and ease of information transfer.
♥️ Get yours now directly on the website
Due to higher pricing as you get a multitude of features and dedicated phone support, we recommend this solution for restaurants who make more than €5,000/month. There are three pricing plans that include: Starter (€90/month), Essentials (€139/month), and Custom Quote. You can get started with a free demo though to try it out first and see exactly what you would be getting based on each offering.
Toast is the right POS system for restaurants expanding into all types of selling channels as they focus on the various displays, reports, and tools needed to be effective in each area.
Clover - Traditional Bank POS for Restaurants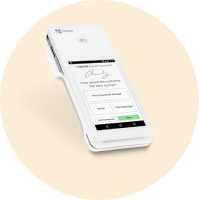 Partnered with AIB Merchant Services, Clover is a strong POS system if you're looking to continue using your traditional banking payment solution. With modernized features in three display types and employee management tools, it is an all-encompassing solution that focuses on the customer and how to increase engagement.
Offering aspects such as splitting the bill, running open tabs, and one-touch tipping, the Clover POS system streamlines the check-out process both in-house and delivery. With dashboards and central configuration management, you get real-time visibility and control of your data.
♥️ Get yours now directly on the website
While you don't need an AIB bank account to get the POS system, you do need an AIBMS account to get the payment solution with the POS itself. Through custom quotes, rates can be negotiated with AIBMS directly to better align with your revenue and the stage your restaurant is in. Their contracts can last for a few months, so be sure to read the fine print to know exactly what services come with your package and how much you will be paying.
Clover is the best POS system if you are a more established restaurant hoping to stick with a traditional banking solution to integrate directly with your AIBMS payment software. See a more complete review of Clover here!
How to Choose the Right POS Restaurant System
With so many good POS system options, it can be difficult to narrow down the right one for your restaurant.

To simplify it, keep these 3 things in mind:
Take a look at your monthly earnings to determine the best pricing plan
Determine which channels you want to sell in and what tools would be ideal
Figure out which integrations and features are necessary for seamless operation
Be sure to take into account commitment horizons, device pairings, and customer support as well. If you focus on these, and with our highly suggested POS system options, you are sure to find the right one for your restaurant.
| ⭐️ All-In-One Solution | ⭐️ Personalized Solution | ⭐️ Omnichannel Solution | ⭐️ Traditional Bank Solution |
| --- | --- | --- | --- |
| | | | |
| Square | PosTree | Toast | Clover |
The Best Card Readers to Pair with Your POS System
In order to have the most effective and efficient purchasing process, ensuring you have the right card reader to pair alongside your POS system is integral to your restaurant's success.
Take a look at our best card reader recommendations to integrate with the POS system of your choosing so you can make the most of your customer checkout experience.
Check out our article on Finding the Best Card Reader in Ireland for a more in-depth review of each one and be sure to visit MobileTerminal.org for additional detailed POS and card reader reviews, to help you find the best fit for your company 🚀
Thank you for reading our article on the best POS Systems for restaurants. We hope this has helped you make an informed decision.