What's the Best Card Reader for your UK Business: Restaurant, Taxi, Sole Trader…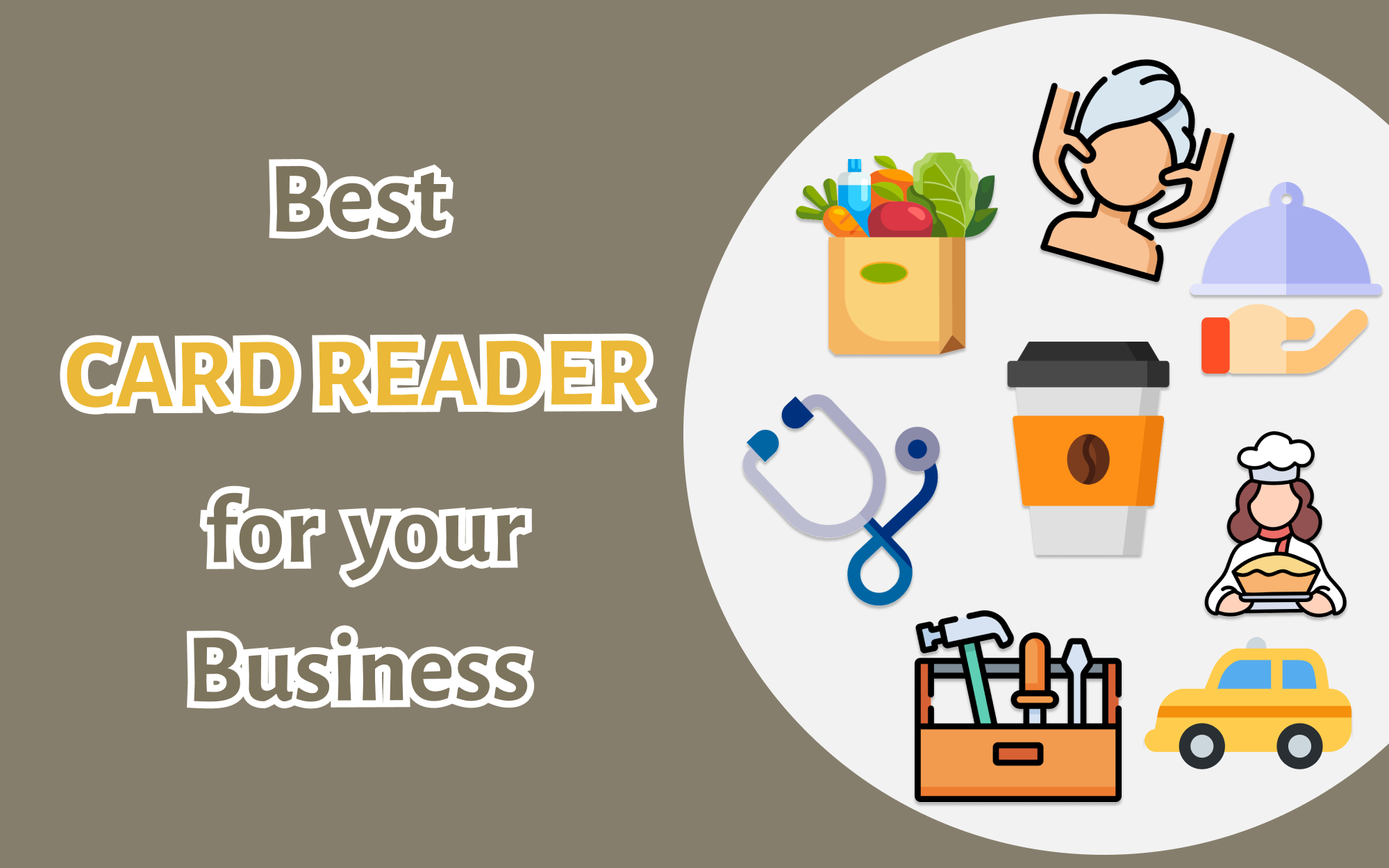 Every business has different clients and ways of operating, but no matter what they do, they all need a card reader. These devices have evolved into an indispensable tool for merchants across the board.
With so many card reader companies and models, it can be confusing to choose the right one. There is no "one size fits all" card reader, and each merchant must choose the one that best suits its unique needs.
This article serves as a guide to understand the different features you should look for in a card reader, based on the needs of your business. A good start is by understanding the size of your business, and then dive into the different industries and desired features.
Here are our favourite card readers according to the size of your business:
| YAVIN | SUMUP |
| --- | --- |
| Best card readers for medium to large businesses | Best card readers for small businesses |
| | |
| Yavin terminal | SumUp Solo |
What's the Best Card Reader for Restaurants or Bars?
Restaurants are all about giving the best customer experience and having optimized operations.
The right card reader can be a game-changer, particularly those equipped with the most complete features designed to satisfy the unique demands of the hospitality industry.
As a restaurant owner these are must-have features you should look for in card readers:
Stand-alone terminal: To prioritize comfort, a stand-alone terminal is a top priority, so that patrons don't have to leave theirs seats when paying with a card.
Seamless PoS integration: This is a key capability that not many terminals comapnies can do. Having a central system that manages both payments and commands can facilitate restaurant operations and meticulous record-keeping. On the administrative side, it can improve the quality of data, making it easier to reconcile transactions and maintain an organized payment history for administrative purposes.
Contactless payment: This is the fastest and most modern way to accept cards. Clients can pay by just tapping their card or phone in the terminal, and the transaction will be done securely in about seconds, reducing wait time for the waitress.
Resistant hardware: Terminals are often carried around, making them vulnerable to damage from spills, drops, and other accidents. Having robust and durable hardware can help ensure that the terminals can resist daily use to avoid frequent replacements.
Other Relevant Features to Look for in a Card Reader
Modern card readers can also offer extra services that are valuable for restaurants. Some of them are:
4G connectivity: Having a backup internet accessibility, such as 4G connectivity, will ensure that the card reader works at all times, especially in areas where WiFi reception is unreliable.
Tipping with card: Enhance the tipping culture in your establishment by allowing diners to leave gratuities when paying with card. This is something that the staff will appreciate. Clients just have to select the desired amount of tip after paying and the tip will be collected in a separate account than the bill.
Online Reviews: Smart card readers can elevate online presence by enabling the online reviews feature. The terminal sends a text with a link of a review website like TripAdvisor so that the client can leave a review in very few steps. This service is especially useful to improve the restaurant's search engine ranking, making it more likely to appear at the top of search results.
Human support: Ensuring that your payment provider can assist you quickly and over the phone is crucial. It is not unusual for cards to have occasional issues. As a restaurant, being unable to accept card payments, even for less than an hour, can damage efficiency and the customer experience.
Our favourite card readers for restaurants and bars:
| YAVIN | SQUARE |
| --- | --- |
| Best card reader for established restaurants & bars | Best card reader for takeout restaurants & cafes |
| | |
| Yavin Terminal | Square Reader |
What's the Best Card Reader for Sole Traders?
If you are starting a small business, you only have occasional customers, or consider yourself a sole trader, looking for a payment device for the first time might be too tricky and and confusing.
Getting a quote from the bank is the easiest way to get a card reader but we recommend exploring new companies that offer smaller devices specifically designed for sole traders in the need to accept card payments anywhere and at any time.
There are a variety of devices designed just for sole traders. For example, some have a small screen with buttons, others have no screen. You can choose the model that you like the most but if you are a sole trader, look for a card reader with the next charachteristics:
Low upfront cost: Getting equipped with a card reader shouldn't be more than £150. Small device are between (£29- £59) and it all depends to of the features included.
No monthly fee and commissions: We recommend using a card reader with no monthly fee. Although this will increase the commission rates per transaction, it adds flexibility by not requiring a contract. This can be particularly important for new businesses that may not know their long-term needs. Commissions vary from company to company, but you can expect them to be around 1.5% per transaction.
Payment links: As a sole trader, it might be easier to bill clients through payment links. This is not a necessity, but still is a comfortable addition you may want to explore. Keep in mind that commission rates tend to be higher through this method due to the required safety measures.
4G connectivity: It all depends on your specific needs. However, if you require connectivity beyond WiFi, there are some devices that offer 4G connectivity. Usually, this feature requires a monthly fee or minimum monthly transactions.
Seamless app: Portable card readers operate through apps in your phone. The app is used to enter the payment amount, generate transactions, invoice customers, and more. Each brand designs its app according to its services. Since all transactions will be carried out through the app, we recommend selecting a reputable and specialized brand with a well-developed app to ensure a user-friendly experience for both you and your customers.
Our favourite card readers for sole traders:
💡
SumUp and Revolut also offer you to open a sole trader business account directly connected to your card reader!
What's the Best Card Reader for Taxi Drivers?
Accepting cards as a taxi driver is a must. The top priority for taxi drivers should be to make sure their terminal will accept payments everywhere and at all times. Therefore, choosing the one that meets the criteria listed below is the only thing taxi drivers should make sure.
4G connectivity: Seamless connectivity is absolutely the most important feature. It ensures you can process payments without disruptions, regardless of your location or the time of day. Make sure that coverage and accessibility is capable enough to process payments across different locations. However, it is important to keep in mind that as this is an additional service, you'll have to pay a monthly fee as it will cover the data.
Card compatibility: Your device should be equipped to accept different card types. This includes major players like Visa, Mastercard, and American Express. Also make sure the card machine accepts international cards and that the currency conversion is made by the customer's bank.
Great commission rates: The increase in passengers paying with cards has a big advantage for taxi drivers. The monthly volume of card transactions increases enough to access better commission rates from card reader companies. Therefore, opt for companies that can tailor commission rates according to your monthly transactions.
Card tips acceptance: Leaving tips to taxi drivers is not mandatory, but some passengers have the courtesy to do so, especially when going to the airport. With card payments, tip collection has decreased. However, this issue can be solved by having a card reader that gives the opportunity to leave tip after paying.
Our favourite card readers for taxi drivers:
What's the Best Card Reader for Service Providers - Beauty Salons, Clinics, etc.
If you own a hair salon, spa, tattoo shop, or you are in the health sector, it's natural you want to opt for a safe card reader such as the one provided by your trusted bank. But it's worth mentioning that bank card readers are not always the most modern or do not have the latest features that will benefit you as a business owner.
In fact, there are alternative card readers available that not only provide security but also give you access to improved commission rates and specialized features made for entrepreneurs like you.

The most essential features to look for in a card reader, as service provider are:
Online reviews: In today's digital age, a robust collection of online reviews is essential to attract more clients. Luckily, boosting your customer reviews is now possible through your card reader. Some card reader companies like  Yavin, have integrated this innovative feature into their terminals. The best part is that this feature does not require any extra fees. After a client completes their payment, if they're happy with the service, they automatically receive a message containing a link that guides them to your preferred online review platform.
References management: This is a small yet useful feature. Establishments can monitor the quality of the service by referencing the person who attended the client. This can also be helful to split up tips fairly among staff.
Improved accounting: This service may differ from one provider to another, but most of the modern card reader companies give access to a user-friendly portal. Within this portal, you can review past transactions, daily reports, billings, and even maintain essential bookkeeping records. The ability to effortlessly manage financial information will definitely ease your life and free up your time for more important aspects of your business.
Seamless PoS Integration: If you have any software or PoS to manage appointments, or collect payments. Having a terminal that can integrate the PoS will help you take full advantageg of all of the capabities of the software.
Our favorite devices for service providers like clinics, beauty salons & spas:
What's the Best Card Reader for Store/Shops?
In the world of retail, the right card reader is more than just a payment tool. It's a valuable asset that enhances efficiency. For instance, one of the core activities in retail stores is monitoring inventory management which is directly tied with sales.
Connecting the software with the card reader is possible and it's a simple way to take full advantages of the software to improve efficiency when stocking or reordering inventory.

Seamless PoS Integration: This is the most important feature when looking for a card reader. Yavin for example, is a card reader company that can connect any PoS. This is a service that not all card reader companies can do. On the other hand Shopify bundles their own PoS and terminal which is a great option if you want to manage everything at once. However, commission rates will be a bit higher.
Data analytics: If the retail store is small enough to not require any PoS system, you can choose a card reader that displays transaction and sales information. Yavin, for example, has a great back-office platform that allows you to visualize all the data in real-time and extract information for specific dates to maintain clear sales data collection.
Commission rates: Sales volume play a substantial role in determining the commission rates. If your monthly sales consistently exceed $5,000, you can potentially negotiate and have an adjustment of your rates, which will significantly impact the margin in a postive way.
Loyalty program: After paying, ask your customers through the card reader their phone number or email and send loyalty promotions and email campaigns.
Our favorite countertop card readers for retail stores:
Getting the Right card Reader is Worth the Investment
There is a variety of companies and models to compare to, and surely there is a card reader that will have exactly what you are looking for.
Choosing the proper card reader is worth the research given that it will help you to elevate the service qaulity and business finances.
Start by identifying the size of your business, and then choose the desired features that will best simplify your operations.
If you are a small company SumUp has a very user friendly app that will help you to stay organized without needing other devices, softwares or programs.
If you are a larger business, Yavin is equipped with all you need to improve operations and can be easily integrate other softwares.
| YAVIN | SUMUP |
| --- | --- |
| Best card readers for medium to large business | Best card readers for small business |
| | |
| Yavin terminal | SumUp Solo |
Lastly, if you want to learn more about card readers, check out our blog to make an informed decision.