Yavin VS Dojo: Most Modern Card Readers in the UK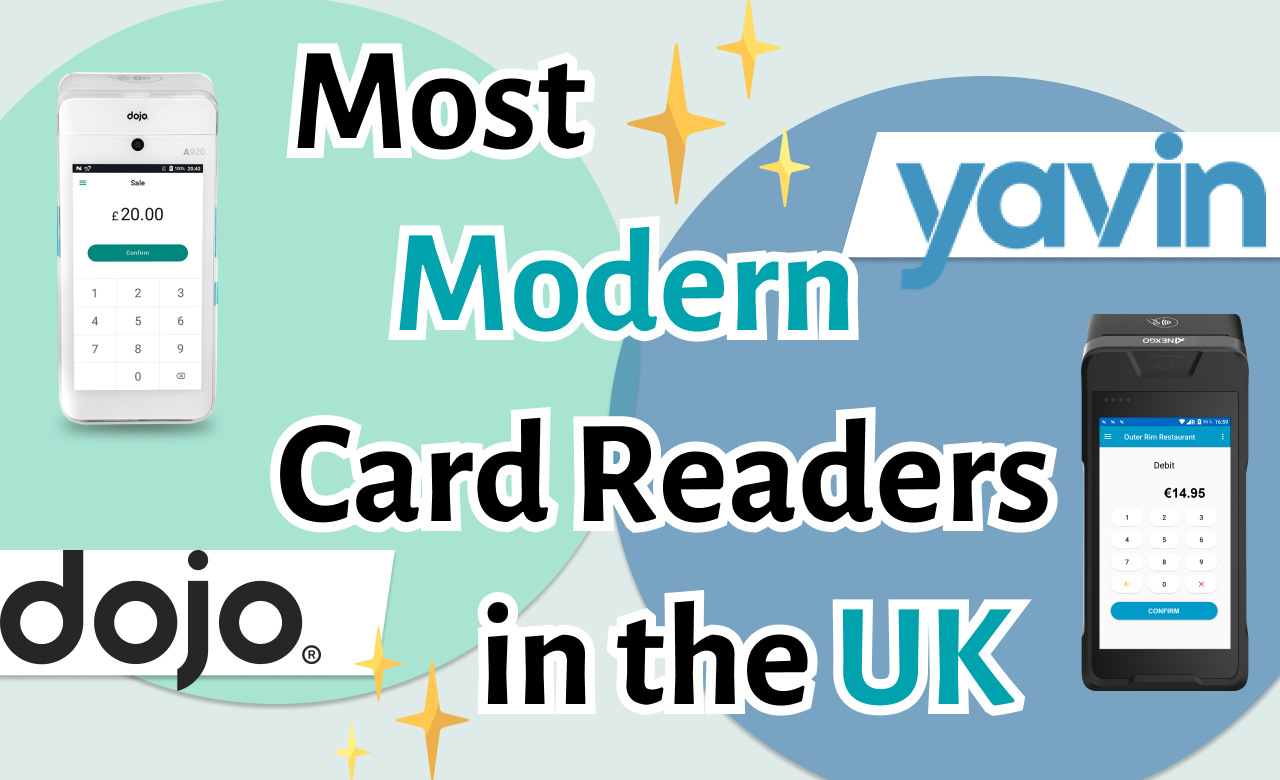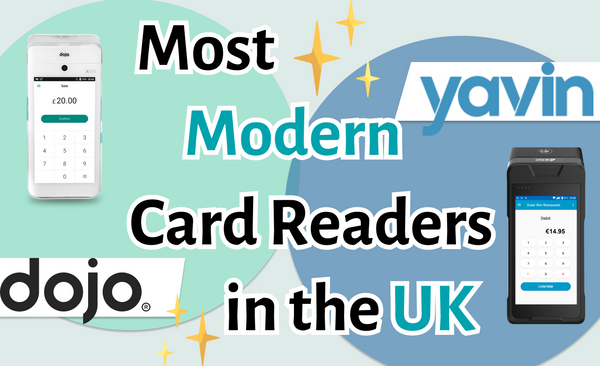 If you currently own a business in the UK or are planning on opening one soon, you might be looking for a modern card reader to be able to accept card payments from your customers. Throughout your search, it is very likely that you stumbled upon two of the most modern and intelligent payment companies called Yavin and Dojo.
👉 For more advice on choosing your card reader, check out our complete guide on Finding the Best Card Reader in the UK 💫
Both of these payment solution companies provide merchants with high-speed and advanced in-person card machines that enable quick payments and ameliorates the customers' experiences as a result. While the two equip businesses with fantastic solutions, there are a couple of key differences to take into account when deciding between them.
Mobile Terminal has analysed these factors and compares both Yavin and Dojo's offers to inform you, so you can see which one adapts best to your business model and help you find the best card reader for your company.
Yavin VS Dojo - Card Reader and Features
When looking at both company's in-person solutions, Dojo offers one type of card reader, the Dojo Go, while Yavin offers two different types, the Yavin Terminal and the Yavin Reader. The main difference between Yavin's card readers are whether they have a printer and the size of the devices. The Yavin Terminal is the most comparable with the Dojo Go; therefore, we compare the specifications of both of these below.
Dojo Go: Simple and Robust Card Reader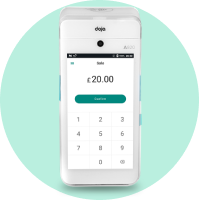 The Dojo Go device is a simple and sleek terminal with a large touchscreen that makes it very easy to use. It functions on its own, using both Wi-Fi and a 4G chip, which activates if the signal ever drops, to make payments at all times. It is very light and has a 10-hour battery life, which allows you to carry it around, so you can get paid on-the-go with no issues. The Dojo Go accepts all the main methods of payments including contactless, PIN and chip, and magnetic stripes. Additionally, each of the most common card types are accepted, including Apply and Google Pay.
With the "Dojo for business," application and online platform, you can easily manage your business, having the ability to check all of your transactions and transfers at any time. It has the basic and essential tracking tools of seeing when a payment is made, if there is one pending, and if there is a reversal. You can also have a look at when transfers will be made into your bank account and verify that everything operates properly. Reports can be created from these in order to analyse each payment and ensure you have a complete understanding of your sales and revenue. Bank transfers are made the next day, regardless of if it is a holiday or weekend, which is one of the main advantages of this payment solution.
💚 Check out their offer here!
With PCI compliance, security is guaranteed as well as great customer service with 24/7 phone support should you need any help at any time. Lastly, with an open API, they are able to connect with any EPOS software of your choosing. Setting them up is quite easy, and it connects all of your systems, so you have everything in just one place. You can also implement online payments, virtual queues, and bookings for additional costs if those are aspects that would adapt well with our business model. This is a great solution that comprises all the essentials and ensures fast payments!
Yavin Terminal: Modern and Complete Card Reader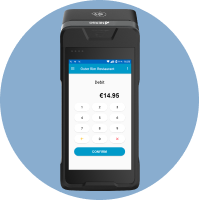 The Yavin Terminal is a durable and elegant card reader that is also standalone and portable, so you can carry it around with ease, and operates with an Android software just like any standard phone which makes it very easy to understand. It also uses Wi-Fi and comes with a 4G SIM card, so payments can be made whenever and wherever. With a 10-hour battery life so you can use it the whole day without having to re-charge, as well as an attached printer, you have everything you need to get paid in one go. All payment methods and card types (the ones mentioned previously) plus QR codes, are accepted too.
As part of the offer, you also have access to a complete back-office, both on your smartphone or computer, called MyYavin. It allows you to see and pull reports of transactions, payouts, and any other key payment information, so you can manage everything properly. Each report can be filtered with a date and time to be able to analyse information more closely. The dashboard also lets you manage your subscription and, one of the biggest differences between the dojo go and the Yavin Terminal, be able to see all of the additional features you can have on your card reader.
These features include:
Tipping: Your customers can leave a tip whenever they have had a great service, which they can assign to a certain person as well.
Customer Reviews: Connected to the platform of your choice, like Google Reviews or TripAdvisor, customers can easily leave reviews. They also go to your MyYavin space where you can take a quick look to understand current trends.
Electronic and Custom Receipts: Receipts sent through email or text message. These, as well as the printed ones, can be customized to include your business's logo or a QR code to encourage interaction.
Loyalty Program: Customers can join a reward program to increase customer engagement and encourage great customers to return time and time again.
References: To make a note on a product you sold so that you can keep track of anything, you can add a reference during the sale.
And many more...
💙 Check out their offer here!
Bank transfers in this case are made the next business day and there is also live customer support all week long, although weekends are only saved for emergency purposes. The API is also open, which allows easy integration of all EPOS out there, and security measures are also put in place to avoid fraud or other issues. This is truly a complete and even customizable solution depending on the features you are most interested in!
Card Readers
Dojo Go
4G/Wi-Fi, touchscreen
Yavin Terminal
4G/Wi-Fi, touchscreen, printer
Yavin Reader
4G/Wi-Fi, touchscreen
Battery Life
10 hrs
10 hrs
Card Types
Visa, MasterCard,
Google/Apple Pay
Visa, MasterCard,
Google/Apple Pay
Customer Support
All Week
Weekdays
Emergencies on Weekends
Payment Methods
Insert, Contactless
Insert, Contactless, QR Codes
EPOS Integrations
Yes
Yes
Back Office
Yes
Yes
Yavin VS Dojo - Set-Up and Contracts
Getting started with both companies is fairly simple and does not take very long. On each of their websites, you first fill out a form with your contact details and business information. After doing so, they will reach out to you to talk a little bit more about your business needs, discuss pricing, and understand the use case.
Once that is all set and both parties have agreed, you will then send in some documents to set up your account and for security purposes. Once everything has been approved, they will send you the card reader for you to get started. Yavin sets everything up for you so you do not need to do anything to start using it right away, while Dojo's set-up is also free and only requires a few steps on the terminal itself. You will gain access to both of their dashboards immediately and can start using the terminals on the go with no issues.

As for contracts, Yavin is completely commitment free. Meaning if you ever want to stop using your card reader, for a month or longer, you can pause your subscription, and you do not pay a single thing. In other words, you only pay when you are using it. Dojo on the other hand, divides up its contracts depending on the size and annual card turnover. Therefore,
If your annual card turnover is below £150K or you are a completely new business, you have an initial 6-month contract, and then it is rolling per month.
If your annual card turnover is above £150K and you are more established, it is monthly rolling from the start.
One big plus here is that they do cover up to £3000 in exit fees, so if you are planning on leaving a current solution but are tied to a contract, you can leave early without having to worry about the costs.
Yavin VS Dojo - Pricing Details
Lastly, each company does their pricing a little different, but they both try to customize it based on the company's current situation, which ensures you will get a pretty fair price regardless. The biggest difference here is that with Dojo, you rent the card reader while with Yavin, you get to keep the card reader once you purchase it.

Dojo's Pricing Model:
If your annual card turnover is below £150K:
Monthly Rental - £20
Commissions - 1.4% + £0.05
If your annual card turnover is above £150K:
Monthly Rental - £15
Commissions - Personalized based on your business, can fall anywhere between 0.3-2.00% + a fixed authorisation fee
Yavin's Pricing Model:
It is completely personalized to every business; thus, there is no standard information available, but here is what we do know:
Pay for the Terminal - Around £200, then it's yours to keep!
Monthly Subscription Fee - Price varies based on features you pick, but it can be paused and resumed whenever - no lock-in.
Commissions - Vary by card type but are on average around 0.6%
Yavin VS Dojo - Final Verdict
Both Yavin and Dojo offer exceptional in-person card readers that ensure a smooth and quick checkout process for your customers, regardless of what your company looks like. They are very similar in offerings, but the main difference lies on the specific needs you have.
We spoke with a couple shops who currently have one of the two card readers, and can give you an idea of their personas to help you decide which solution may fit you best based on what you're looking for:
Go for Dojo if you fit the "Classic Shop Owner" persona: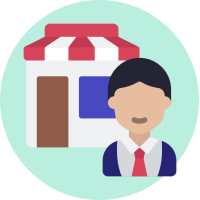 Brenden owns a clothing store in Brighton. He was looking for a card reader that is reliable and easy to use. He does not need too many features but rather simply wants a solution that works well and offers great visibility of his transactions at all times. The Dojo Go now fits his needs perfectly as its simple interface and sleek design make for just the right choice for his boutique.
Go for Yavin if you fit the "Tech-Savvy Business Owner" persona: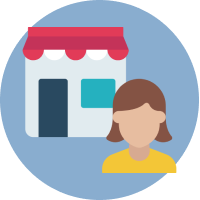 Margaret owns a busy restaurant in London. She was looking for an advanced card reader that is flexible and full of features as she loves leveraging innovative tech in order to offer the best customer experience. The Yavin Terminal now fits her needs perfectly with her growing business, being able to keep track of figures with advanced analytics as well as implementing extras like tipping and customer reviews to increase consumer engagement and better her image.
The Dojo Go provides clients with all the essential features and precise payments, offering complete reliability, simplicity, and robustness. On the other hand, the Yavin Terminal offers a whole array of additional features, with flexibility, durability, and advanced technology. Regardless of which one you choose, rest assured that you will be able to make payments with no hassle and ensure a positive customer checkout experience at all times.
Thank you for reading our article comparing the Dojo and Yavin card reader offers in the UK. We hope this helps you make a decision best fit for your company.
Please visit MobileTerminal.org for more card reader and EPOS reviews, to help you find the right payment solution for your business 🚀