The SumUp One Offer & SumUp Solo - Is It Worth It?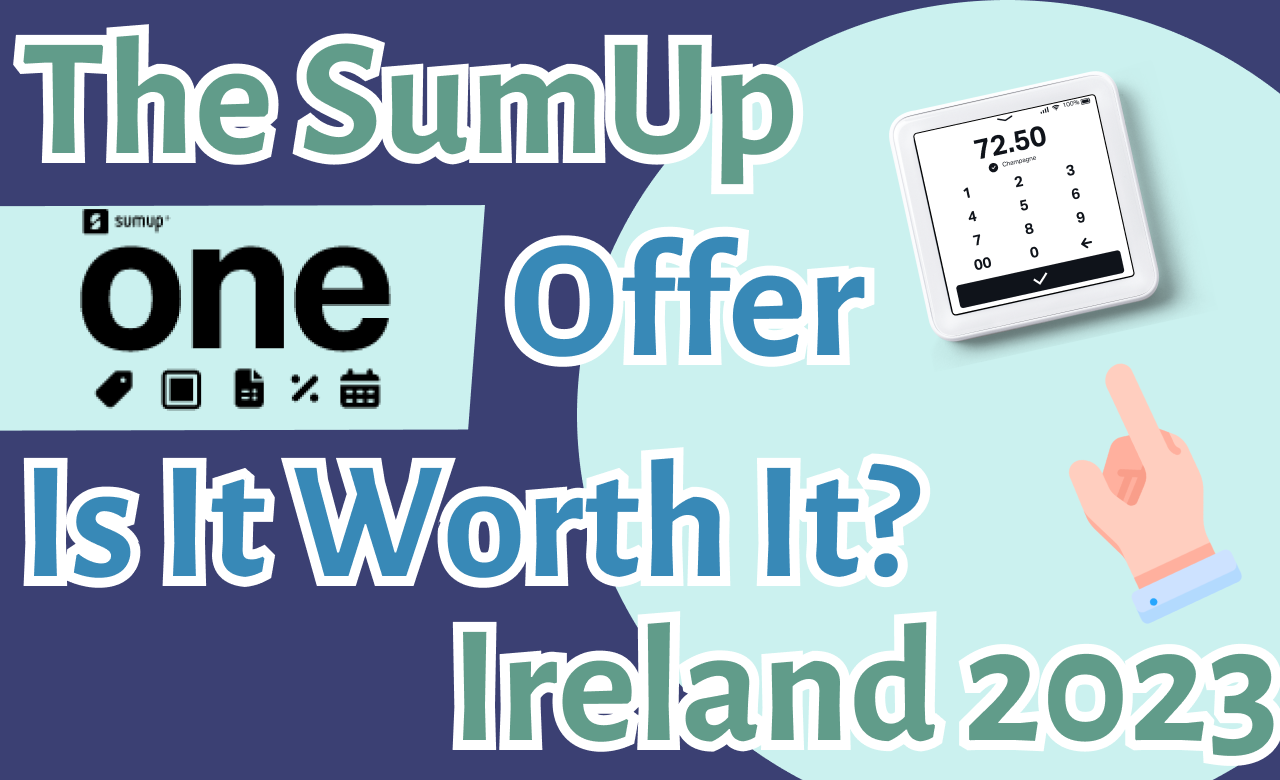 SumUp is one of the most popular and affordable modern payment solution companies for starting businesses in Ireland. They produce a wide range of products from in-person card readers to online payment to POS softwares.
Their main goal is to liberate customers from binding contracts and overly expensive offers. They are a great choice for new businesses that are just getting started as although their transaction fees are somewhat higher than other solutions, they do not have a monthly fee. Here are the main pros and cons of SumUp:
+ No Fixed Contract
+ Wifi & 3G
+ Integrated PoS and Inventory solutions
+ Low Initial Costs
- Limited Technical Support
- High Commissions
- Closed API
- Reduced Features
To look at a more detailed review of their card readers, check out our other articles on SumUp vs Square or Yavin vs SumUp.
However, SumUp has recently released a completely new payment offer in the UK and Ireland that slightly shifts their model and adapts better to growing businesses. This new offer is called SumUp One, a membership plan with a monthly subscription fee that claims to save customers money on both commission fees and on different aspects of their products.
Mobile Terminal has analyzed this offer in order to give you a complete review of the SumUp One and help you determine if it's the right fit for your business.
---
Check out our favorite card readers in Ireland 👇
---
SumUp One: The New Membership Plan
The new SumUp One membership plan is an all-inclusive offer that allows you to pay a monthly fee in order to receive offers and discounts like reduced initial costs per terminal. The goal is to offer you a fixed fee per month that gives you access to more than just your standard plan to accommodate more than one type of business.

SumUp One: Complete Offer Benefits
Why choose this plan over SumUp's standard plans? Here is a list of all the benefits you get with the SumUp One membership plan:
🔥 In-person and Online Payments: Offering you both in-person card readers and online payments methods allows you to take your business to the next level by providing your customers with several channels to pay through and expanding your business model further.
🔥 Transactions Management: Track your transactions at any time on the SumUp app found both online and on your smartphone to verify all of your business payments.
🔥 Faster Payouts: You will receive money into your bank account the next day that it is available, but keep in mind that during the first month it may take up to 5 business days while they completely set up your account.
🔥 Discounts and Lower Commissions: Get half off of one SumUp Solo as well as lower commission fees for both in-person and online payments per transaction.
🔥 Increased Number of Invoices: Receive unlimited number of free electronic invoices with SumUp Invoices.
🔥 2 Extra Free Withdrawals: With your SumUp Business Account and the Business Mastercard that comes with it, you can make two extra withdrawals from the account for free.
SumUp One: How Does It Work?
Setting up the membership plan is simple, just like any other SumUp offer, you first create a profile on their official website. Once that is all set, you can purchase SumUp One directly on your account using a credit or debit card, activating it and getting your first 7 days for free where you can cancel the plan at any time within that period.

Afterward, if you do not have a SumUp card reader, you can order one SumUp Solo for half off and set up a SumUp Business Account. Take into consideration that the 7-day trial starts on the day you set up the account, so try to order your discounted card reader as soon as possible if you don't already have a card reader so that you can take advantage of the trial and see how you like it.
Once it is all set up, you can start making payments as per usual, getting reduced commissions as well as next day payments one month after the subscription starts. You pay for the subscription a month in advance, and it renews automatically each month unless you cancel it, which you are free to do at any time. However, you have a limited amount of time to renew it if you choose to do so within the remaining paid period.
SumUp One: Pricing Details
The SumUp One monthly membership fee costs €29 per month per card reader. With this monthly rate, these are the following costs of your complete payment solution:
Discounted SumUp Solo: You can get one SumUp Solo at a discounted rate for an initial cost of only €39.50 + VAT.
Commissions: Both in-person and online payments have commission fees:
  ⚡️ Local Consumer Cards: 0.99% per transaction
  ⚡️ International and Commercial Cards: 1.99% per transaction
SumUp One vs SumUp Pay-As-You-Go Offer
What are the real differences between the standard pay-as-you-go model that they typically offer and the new SumUp One membership plan? Here is a side-by-side comparison of both:
Monthly Fee
€29
€0
SumUp Solo Price
€39.50 + VAT
€79 + VAT
Card Reader Commissions
Local: 0.99%
Other: 1.99%
1.69%
Online Payment Commissions
Local: 0.99%
Other: 1.99%
2.50%
Payout Time (after 1 month)
1 day
1-3 days
Free Invoices
Unlimited
4/month
Verdict: Is the SumUp One Offer Really Worth It?
After having looked at every aspect of the new SumUp One offer, is it really worth it?
In short, our opinion is that it seems to sit just between an offer for starting businesses and for established ones, but does not quite fit either one perfectly. In this case, we recommend the following payment solutions:
If you're a starting business, we recommend sticking to the standard pay-as-you-go SumUp offer, where you only pay commissions and there is no monthly fee. That way, if you are just starting out and might not have as many transactions just yet, it's the most cost-efficient.
If you're an established and growing business, we recommend going to a player like Yavin, for the same monthly price but with more advanced features, with a more sophisticated and durable device, and with lower commission fees on average. Check out our full review to find more information in our other article: Yavin Terminal Review.
Thank you for reading our article on the new SumUp One offer. We hope this complete review has helped you choose a card reader for your business.
Please visit MobileTerminal.org for additional detailed payment solution reviews, to help you find the best fit for your company 🚀
📺 And check out our SumUp One video review below