SumUp VS Square: Comparing Card Readers for Small Businesses in Ireland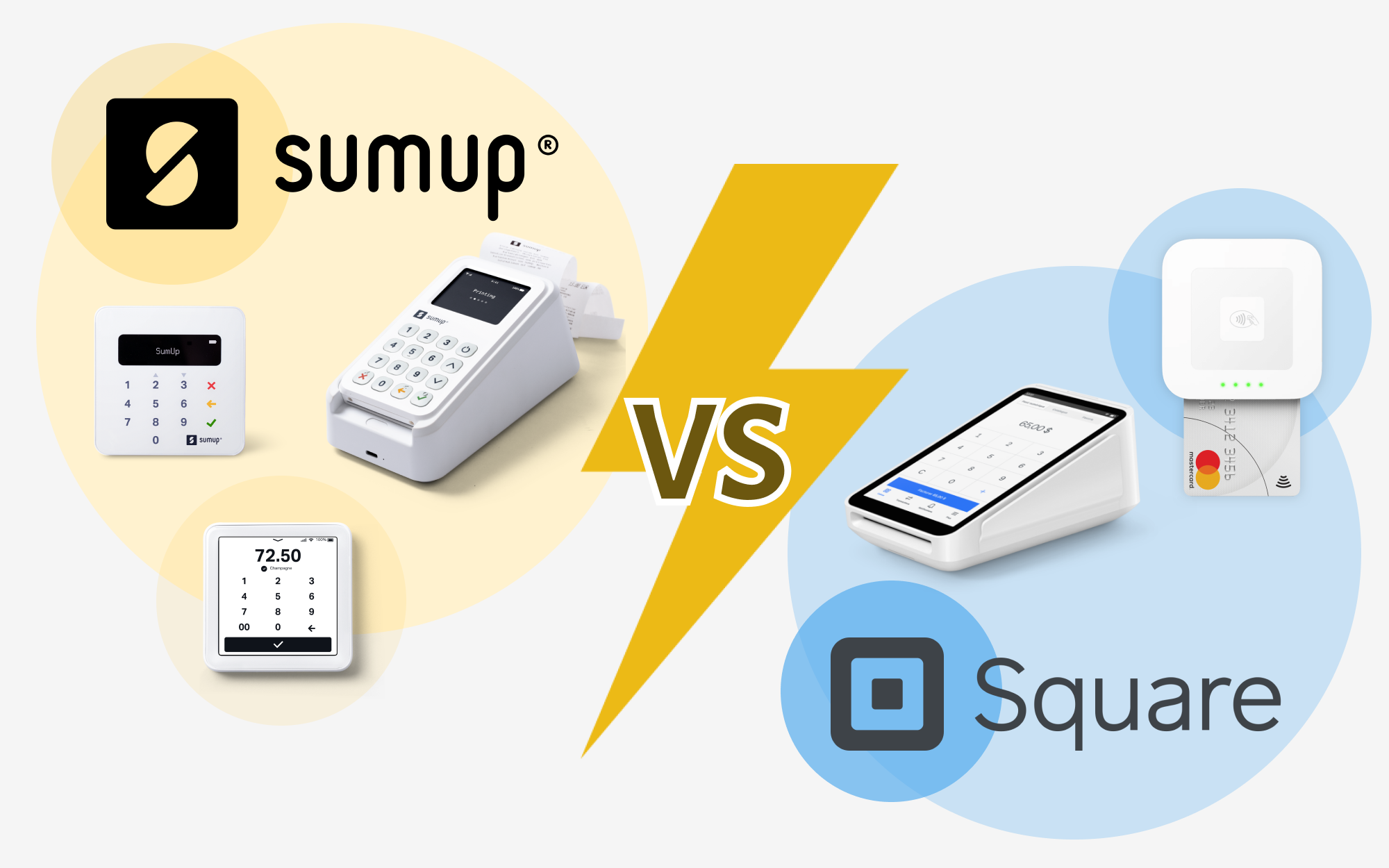 Accepting in-store payment has never been very easy in Ireland. Historically, getting a card reader meant committing over a long term, buying or renting an expensive card machine, and trying to understand complex transaction fees. That is no longer the case thanks to solutions like Square and SumUp.
If you are starting your company and are looking for a modern way of getting paid, Square and SumUp will certainly offer relevant solutions for your business. With no commitment, transparent transaction fees, and affordable terminals, these are great tools to empower your activity.
👇 If you are an established business, scroll to the end for more...
Although Square and SumUp present many similarities, they have different features that need to be taken into account when choosing your payment terminal. We have taken a look into their offers to help you find the best card reader for your business.
---
👉 Discover our favorite card readers alternatives in Ireland 🇮🇪
---
SumUp and Square: Affordable Readers for Irish Entrepreneurs
SumUp and Square Facilitate Entrepreneurs' Life
For a long time, in-store payment in Ireland was dominated by traditional banks and financial institutions. There used to be a limited choice as most entrepreneurs would go for the payment solution provided by their bank. Getting a card reader was a significant commitment, both financially and legally.
The London-based company SumUp first turned the tide when it launched in Ireland in 2012. With its contactless and portable devices, it provides Irish merchants with a more modern and affordable card reader solution. After 10 years, SumUp is still one of the most popular card reader solutions in Ireland and constantly keeps innovating.
Check out all our favorite card readers and how to choose the right one for your business by checking out our other article on Finding the Best Card Reader in Ireland - 2023.
In late 2021, the US-fintech Square in turn started rolling out its card readers in Ireland, making its competitive offer available to all Irish entrepreneurs. As a result, small Irish businesses now have more options than ever to get a card reader easily.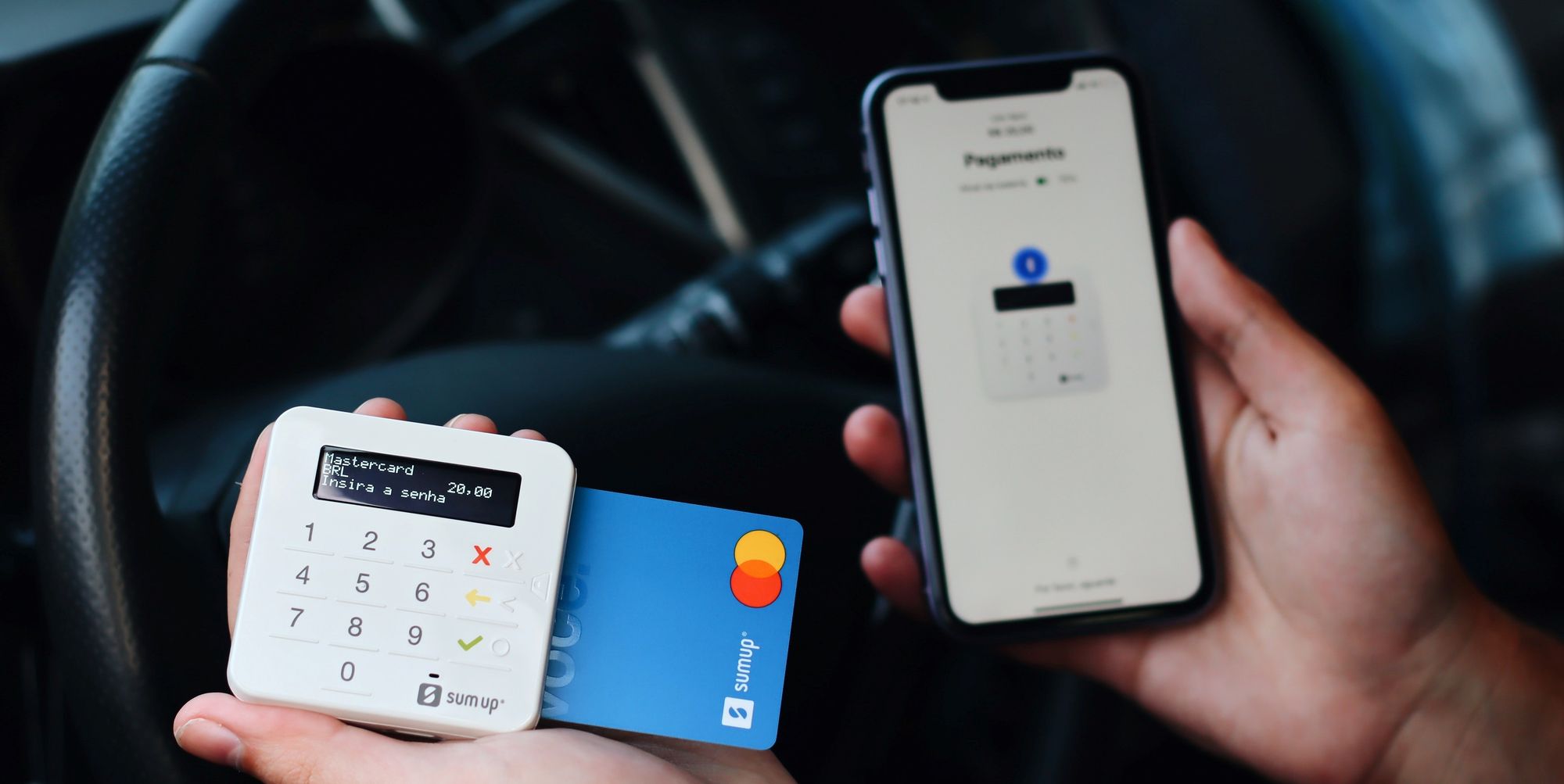 Two Simple In-Store Payment Solutions for Starting Businesses
Square and SumUp share a common mission to free merchants from expensive and committing offers, and therefore have many similarities. Here is an overview of what you can expect when you go with SumUp or Square:
No/Low Upfront Costs: Getting started with SumUp or Square requires minimal upfront investment. You just have to purchase your card reader directly from their website in order to accept payment, with prices ranging from €20 - €150.
Pay As You Earn, No Monthly Fees: Square and SumUp charge you with a fixed percentage fee on each transaction - and that's it! If you don't use your card reader, you don't pay.
No Contract: You can stop using your terminal at any time if you want to as there are no strings attached.
Sleek Designs and Robust Technology: Both Square and SumUp provide modern hardware with intuitive interfaces and complete features such as digital receipts, tipping, etc.
Integrated Business Solutions: In addition to card readers, Square and SumUp provide a wide range of compatible equipment and software tools for your business, including PoS solutions and online payment features.
Square VS SumUp Readers: Offers, Features, and Pricing
Although Square and SumUp have similar value propositions, some notable differences exist in fees, card readers, and features. Let's have a closer look at how they differ and which could be most relevant for your business.
Card Reader Comparison
Entry-Level Readers: The SumUp Air vs. The Square Reader
The SumUp Air and the Square Reader are amongst the most affordable card readers in the market. Both devices are minimalistic and need to be connected with a mobile device via Bluetooth to operate. While they have limited features, they enable you to accept most payment cards with minimal setup and upfront costs.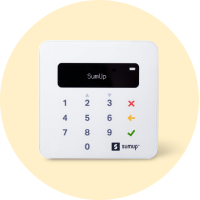 The SumUp Air is available for €39 + VAT, and connects via Bluetooth with the SumUp app, available on most Android and Apple devices. Customers can pay through contactless or insert, and then type their pin directly on the reader's pin pad.
❤️‍🔥 Get your SumUp Air now!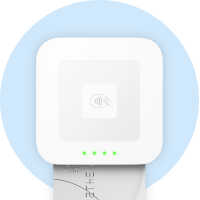 The Square Reader costs €19 + VAT and can connect with most smartphones through the Square app. Although it was specifically designed for contactless payment, customers can also insert their card and type their pin on your smartphone.
❤️‍🔥 Get your Square Reader now!
Verdict: The choice between these two card readers will be driven by customer experience. The Square Reader is a great choice if you are looking for a compact reader, and if most of your customers use contactless payment. The SumUp Air will be a better solution if you are looking for a more complete reader with a pin pad.
Standalone Terminals: SumUp 3G Printer vs. Square Terminal
With the success of their compact readers, both Square and SumUp have created an offer for small merchants looking for more traditional payment terminals. The SumUp 3G Printer and the Square Terminal are two modern mobile terminals that can operate in full autonomy.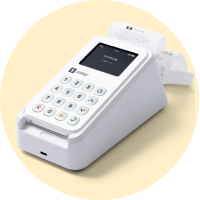 As its name suggests, the SumUp 3G Printer can connect from anywhere with 3G or Wi-Fi and comes with a printer to print out receipts. It looks and acts very much like a traditional payment terminal, and can be bought for €129 + VAT.
❤️‍🔥 Get your SumUp 3G Printer now!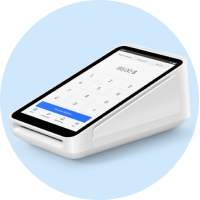 The Square Terminal is the firm's most complete card reader, available for €169 + VAT. It is recognizable by its sleek design and large touchscreen. Although it is equipped with a printer, it does not have any integrated SIM, so you will need a Wi-Fi connection to accept payment.
❤️‍🔥 Get your Square Terminal now!
Verdict: You will have to choose between looks and level of completeness. The Square Terminal has the most elegant design in our opinion, but if you need to travel with your terminal or have occasional Wi-Fi problems, the SumUp 3G will be the safest bet, so you can accept payment anywhere.
The Unclassable: The SumUp Solo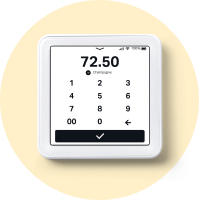 In 2021, SumUp came up with a new model, called Solo, that has no equivalent by Square. As per its name, it is a standalone mobile terminal that operates independently without a smartphone or tablet. It is SumUp's first touchscreen-only terminal, and benefits from the autonomy of the SumUp 3G and the compact size of the SumUp Air. You can get yours for €79 + VAT.
❤️‍🔥 Get your SumUp Solo now!
⭐️ And to see a new discounted offer for the SumUp Solo, check out our article here!
Verdict: if you can't decide between a minimalistic and larger terminal, the SumUp Solo will provide your business with an original touch. Keep in mind, it has no printer, so you will have to send e-receipts to your clients if they ask for it.
Fees and Payouts
Square and SumUp charge a percentage transaction fee for each payment, regardless of the terminal or the payment method used:
Square: 1.75% + VAT per transaction
SumUp: 1.69% per transaction
The difference in pricing between both offers is quite limited. Supposing you collect €10,000 with your terminal, fees will amount to around €175 with SumUp, and around €169 with Square - i.e. a €6 difference.
In terms of payment methods, SumUp and Square are can accept Visa, Mastercard, American Express, and most mobile wallets (Google Pay, Apple Pay) regardless of the card reader used. SumUp also accepts Discover, JCB, and Union Pay cards, which Square doesn't.
Verdict: SumUp is slightly more advantageous in terms of fees and cards accepted.
Online Payment, POS, and More
Square and SumUp offer a complete range of integrated tools to accept payment. This includes payment links, QR codes, invoices, phone payments, etc. All transactions are then centralized in your back-office, making it easy to monitor all items. Pricing and features are quite similar: in both cases, you will access simple services with a fixed and transparent percentage fee.
In terms of POS and business solutions, Square has the most advanced functionalities, offering for example a dedicated solution for retailers and restaurants, and integrations to accounting software. SumUp on the contrary has a more generalist all-in-one approach, with simpler features and its own bank account solution.
If you're a restaurant looking for a POS system to fit your specific needs, have a look at our article to find the perfect one for you!
Finally, both Square and SumUp have their own e-commerce solution if you wish to take your business online. Setting up the store is entirely free, and you only pay a transaction fee for each online sale.
Verdict: Beyond card readers, we recommend taking into consideration all the features offered by Square and SumUp based on your business needs. SumUp is the simplest solution for starting businesses, while Square offers a few more advanced tools for merchants with specific needs.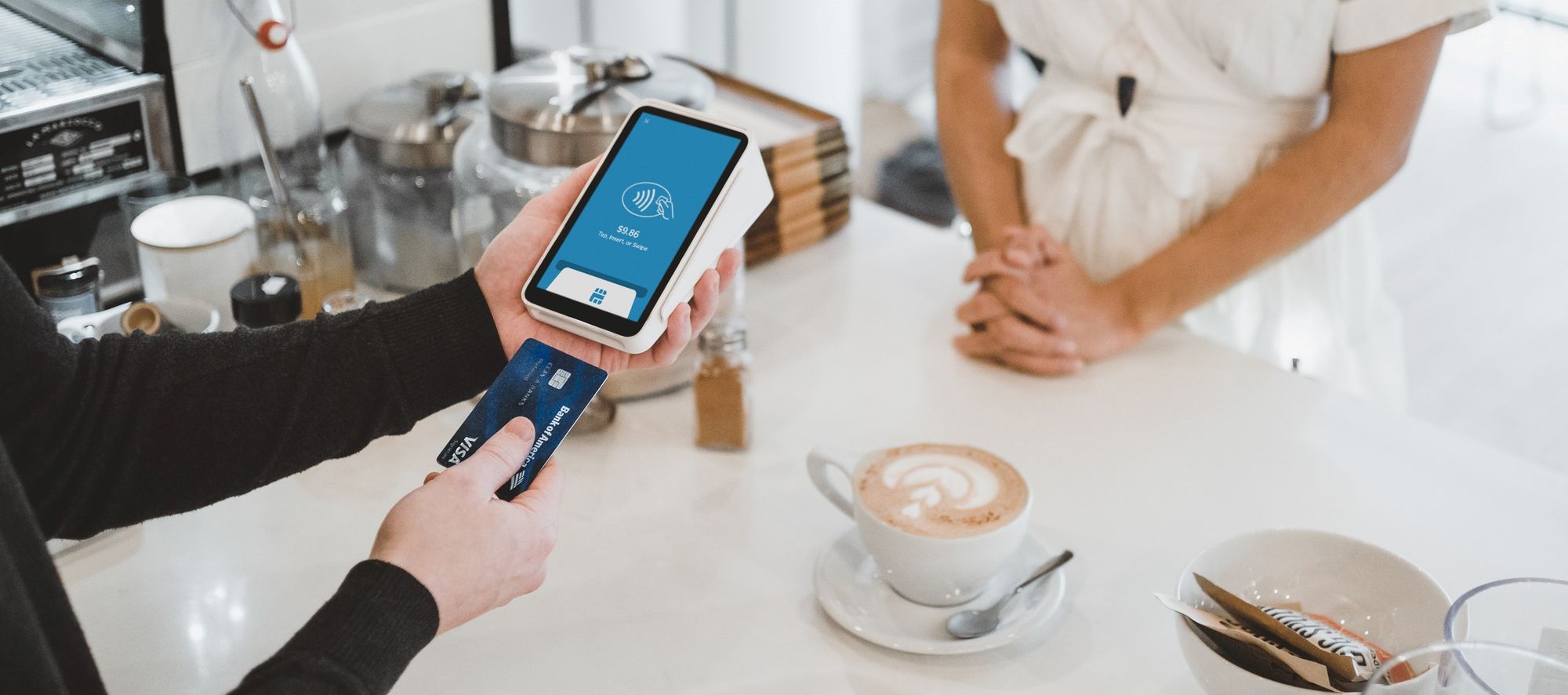 Summary: Choosing your Payment Solution
Bluetooth terminals
SumUp Air - €39 + VAT
bluetooth, pinpad
Square Reader - €19 + VAT
bluetooth
Standalone terminals
SumUp Solo - €79 + VAT
3G/Wi-Fi, touchscreen
SumUp 3G Printer - €129 + VAT
3G/Wi-Fi, pinpad, printer
Square Terminal - €169 + VAT
Wi-Fi, touchscreen, printer
Transaction fees
1.69%
1.75% + VAT
Accepted cards
Visa, MasterCard, American Express, Maestro, Visa Electron, Vpay, Discover, JCB, or Union Pay
Visa, MasterCard, American Express, Maestro, Visa Electron, Vpay
Contactless
Cards, Google Pay, Apple Pay
Cards, Google Pay, Apple Pay
Funds transfer
1-3 days
1-2 days
Live support
Monday-Friday: 8am - 7pm
Saturday and Sunday: 8am - 5pm
Monday-Friday: 9am - 5pm
Link to website
Start with SumUp
Start with Square
Card Readers for Established Businesses?
While SumUp and Square are great for starting businesses and small merchants, you might want to consider more suitable options as your business grows and becomes more successful.
If you collect more than €5,000 per month with your card reader, you might consider other solutions with lower percentage fees and more advanced payment features. For instance:
Yavin's No-Commitment offer, including an affordable Android payment terminal, an intuitive interface, and competitive rates. Learn more about it from our in-depth article.
Clover's European offer, through AIB Merchant Services: for large business who want lower rates and complete payment solutions. Learn more about it from our detailed article.
📺 Watch Our SumUp VS Square Video Review Below!