Elavon Review - Traditional Card Reader Offer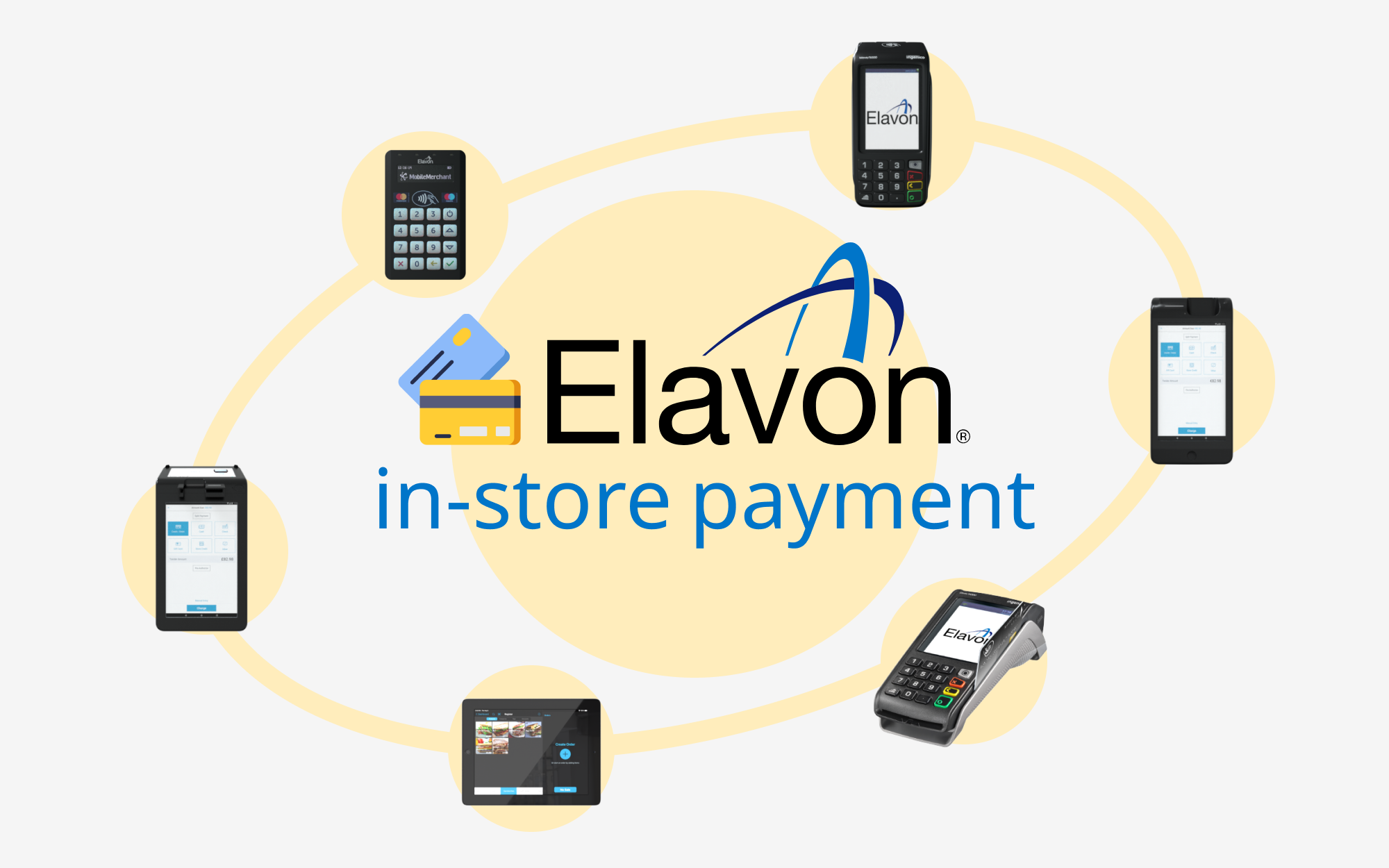 When choosing a card reader for your business, you will have to make a choice between two types of solutions:
The 30-year-old payment processor Elavon falls within the first category. Their traditional in-store payment solution is available through custom quotes and requires a 12-month minimum commitment. Nonetheless, Elavon has recently modernized their offer with new services and payment terminals, in order to make their solution more attractive.
Are Elavon's card readers a good fit for your business? We have analyzed their offer to better assist you in choosing your card readers.
+ Wide range of payment terminals
+ Negotiable commissions, next day funding
+ 24/7 customer support
- Expensive card readers
- Monthly fees
- Minimum 12-month commitment
🌟 Get started with Elavon now!
---
Check out our favorite modern payment alternatives to Elavon 👇
---
Getting Started with Elavon
Elavon, a subsidiary of the U.S. Bank, is a global leading payment processor serving clients in 36 countries, including Ireland. Their online and face-to-face acquiring services are available to all business sizes across all industries.
Information about Elavon's in-store payment solution can be found on their Irish website. They provide an overview of the payment terminals available, but very limited information about pricing and the conditions of their offer.

To get more details about the conditions for your business, you can fill out an online form to get a quote. Their sales team is quite reactive and usually responds within 24h with a detailed proposition, including monthly fees and detailed commissions for each type of card.
A Wide Range of Card Readers
Elavon currently offers 3 card reader types to their Irish customers:
Poynt Card Readers: New generation Android smart terminals with a large touchscreen and advanced features.
Tetra Card Readers: Traditional Ingenico payment terminals, mobile or wired.
MobileMerchant: A compact Bluetooth reader that connects to a smartphone equipped with the Elavon MobileMerchant app.
All these readers can accept most popular cards, including Visa, MasterCard, American Express, Maestro, Visa Electron, Vpay, Discover, JCB, or Union Pay. They also do contactless with most cards, Apple Pay and Google Pay. In addition, Elavon offers next day funding to all customers, regardless of their bank, so you can access your funds swiftly.
Elavon: Poynt Card Readers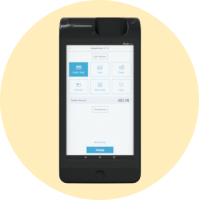 The Poynt P5 is a mobile Android smart terminal with a large touchscreen. It is quite complete and can connect via WiFi or 3G, but does not have an integrated printer. The Poynt P5 is available to rent for about €25.
❤️‍🔥 Get your Pyont P5 here!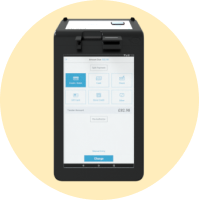 The Poynt P61 is a larger version of the P5, equipped with a 7.0" touchscreen, so you can easily use your PoS app directly on the terminal. It connects to the internet via Wi-Fi only, and has an integrated printer for receipts. You can rent the Poynt P61 for about €30 per month.
❤️‍🔥 Get your Poynt P61 here!
Elavon: Tetra Card Readers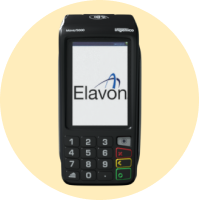 The Tetra Move 5000 is a traditional mobile Ingenico terminal. It is equipped with all standard tools: pin pad, 3G and Wi-Fi connection, thermal printer, etc. You can rent a Tetra Move 5000 device for circa €22 per month.
❤️‍🔥 Get your Tetra Move 5000 here!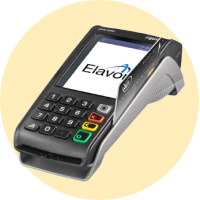 As its name suggests, the Tetra Desk 5000 is the countertop version of the Move 5000. It also has an integrated printer, and has to be wired to an Ethernet cable to process transactions. The Tetra Desk 5000 can be rented for €16 per month.
❤️‍🔥 Get your Tetra Desk 5000 here!
Elavon: MobileMerchant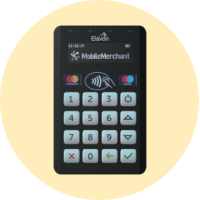 The Elavon MobileMerchant is a pocket Bluetooth reader that connects to any Apple or Android device equipped with the Elavon app. It can accept insert and contactless payments. It has no printer, but enables you to send digital receipts. It is Elavon's most affordable terminal, and can be bought for €39.
❤️‍🔥 Get your MobileMerchant here!
Elavon: Tailored Fees with Standard 12-Month Contract
The terms of Elavon's contract will depend on your monthly card sales volume, the number of terminals you need, etc. Here are the general conditions of their offer, applicable for all Poynt and Tetra terminals:
Transaction Rates: These will differ based on the type of card used. As a medium business, you can expect commissions to be around 0.7% for local credit cards, and 0.4% for local debit cards. For each transaction, there is also a fixed authorization fee, typically €0.02-€0.03. Please note: a minimum €30-fee will be charged monthly, regardless of the number of transactions.
Recurring Monthly Fees: In addition to the card reader rental fee, some other fees may apply, such as a mandatory 'Secured by Elavon' fee starting at €6, and other optional services.
Lock-In: All contracts are 12-months long minimum.
As a summary: In addition to the transaction fees, you will be charged a monthly fee starting at about €25 including the card reader rental and additional fees, with a 1-year commitment.

Please note, the MobileMerchant reader comes with a specific no-contract pay-as-you-go offer, designed for smaller businesses:
Transaction Fees: from 2.75%.
Recurring Monthly Fees: N/A
Lock-In: N/A
To get a more detailed overview of what Elavon can offer for your business, you can fill in their online form where you will then receive a tailored quote with custom fees.
Elavon: Services and Business Solutions
As a payment processing generalist, Elavon offers several integrated services that can be relevant for your business and help you operate more easily.

If you are running a multichannel business, Elavon can provide you with their online payment solutions. You can then manage all in-store and online payments on a single platform, and benefit from a comprehensive payment service for your company.
Elavon also offers specialist POS hardware and software for restaurants and cafés, retailers, and service providers. The Talech POS suite is fully integrated with Elavon's terminals, making it easy to process and reconcile payments.
If you want to see what other POS softwares are out there for restaurantes and cafés, check out our in-depth article on Best Restaurant POS System in Ireland.
Last, Elavon is connected with a few partners in Ireland, helping you get your terminal with integrated tools. These include SmarterPay, Retail Solutions Scotland, and Futura Retail Solutions.
Verdict: A Robust Traditional Payment Solution
Card readers
Poynt P5 - ~€25/mth
3G/Wi-Fi, touchscreen
Poynt P61 - ~€30/mth
Wi-Fi, touchscreen
Tetra Move 5000 - ~€22/mth
3G/Wi-Fi, printer
Tetra Desk 5000 - ~€16/mth
Ethernet, printer
MobileMerchant - €39 (buy)
bluetooth, pinpad
Transaction fees
Tariffs for a medium business (€10k/month):
0.7% local credit card / 0.4% local debit card
MobileMerchant:
From 2.75%
Additional monthly fees
From €6
(€0 with MobileMerchant)
Lock-in
12-month contract
Cards
Visa, MasterCard, American Express, Maestro, Visa Electron, Vpay, Discover, JCB, or Union Pay
Contactless
Cards, Google Pay, Apple Pay
Time to access funds
1 day
Live support
24/7
Link to website
Start with Elavon
As a traditional payment solution, Elavon will be the right fit for you if you prefer the security of an established financial institution over the flexibility of a modern solution. The tailored commissions make Elavon specifically interesting for larger businesses who can negotiate the best rates. In addition, Elavon's services and integrated POS tools can help you operate seamlessly with a complete solution.
As a small or medium business, Elavon might not be the best solution for you, as you would have to commit for a year, and pay a recurring monthly fee for your card reader and services. The MobileMerchant, a direct competitor to SumUp's Air Reader, fails to offer a suitable alternative. It is significantly more expensive and doesn't provide the same quality of experience.
We recommend you ask for a quote on Elavon's website to get a precise idea of the conditions that would apply to your business. To find the best solution, we advise you to also compare your Elavon offer with other leading providers:
As a small business, you might be interested in Square and SumUp's no-commitment and pay-as-you-earn solutions. See a comparison of their offers in our article SumUp VS Square.
Check out our favorite modern payment alternatives to Elavon 👇
📺 Watch our Elavon video review
🌟 Get started with Elavon now!